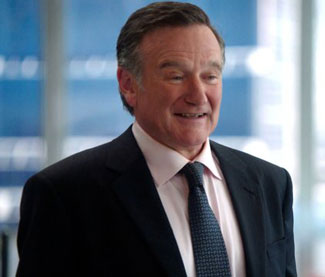 This fall marks a return to television for one of Hollywood's biggest stars, Robin Williams. After gaining fame in Mork & Mindy over three decades ago, he's headed to CBS for a David E. Kelley sitcom with Sarah Michelle Gellar called The Crazy Ones.
The actors play a father-daughter duo who run an ad agency together. Creator Kelley said, "Robin was the first and only choice."
The Oscar winner spoke with Parade magazine about coming home to his roots after 31 years. He talked about why the timing was right to do a TV series.
Williams explained, "The idea of having a steady job is appealing. I have two [other]choices: go on the road doing stand-up, or do small, independent movies working almost for scale [minimum union pay]. The movies are good, but a lot of times they don't even have distribution. There are bills to pay. My life has downsized, in a good way. I'm selling the ranch up in Napa. I just can't afford it anymore."
His surprising honesty reflects perhaps a few lessons learned from his two divorces from first wife Valerie Velardi and second wife Marsha Garces. He paid out some pretty hefty settlements to both of his exes.
"Divorce is expensive. I used to joke they were going to call it 'all the money,' but they changed it to 'alimony.' It's ripping your heart out through your wallet. Are things good with my exes? Yes. But do I need that lifestyle? No," said the 62-year-old actor.
However, don't be fooled that Williams is only there for a steady paycheck. It was the right project to mark his return. Most importantly, he's really enjoying his new gig.
The comedian said, "It's fun. I'm having such a blast doing it with Sarah. She's a sweet woman. And the idea of a father-daughter relationship—since I have a daughter, I've done the research on that."
The Crazy Ones premieres on CBS on Sept. 26.