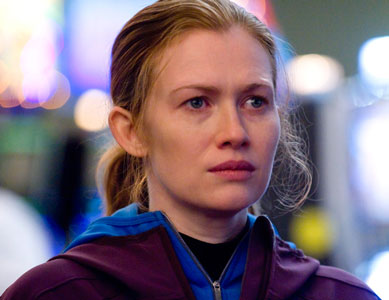 Mireille Enos, star of AMC's The Killing, received her share of the backlash from viewers who thought the main mystery of the show should have been wrapped up in season one.  In an interview with Vulture, Enos said, "I feel bad if anyone felt misled.  I think the thing that is amazing about the show is the character development, and it seemed clear that if you love these characters, you would want to spend more time with them.  So it was a little confusing to me that so much focus at the end was put on having an answer instead of the development of the story."
It's true that viewers wanted to know who killed Rosie Larsen, but steadfast fans are willing to wait around for the answer that will most likely come in season two (which began airing on April 1.).
While the role of Detective Sarah Linden is a draining one, there's also a physical component as well.  Enos said, "Actually, it's true that days where I'm shooting scenes where I chew gum, my jaw gets so tight.  It's crazy.  I don't know how people chew gum all day long.  It's mostly in the script, and then occasionally I ask for it."
Enos will also be hitting the big screen in films World War Z and Gangster Squad.  She finds film roles "challenging in other ways.  Every role that you play comes with its own set of challenges.  World War Z is an action movie.  It's more than that, but a lot of it is action, so the challenge there was how to keep these people grounded in truth and dealing with the real circumstances instead of just running down the street.  And in Gangster Squad, you're telling the story of real people.  My character is pregnant in this film and the real person who was that baby came to the set.  So that's a challenge, trying to honor those people."
Viewers can see Enos on The Killing on Sunday nights on AMC.