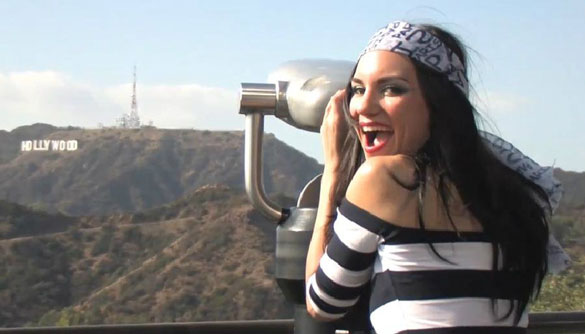 I recently met up with actor Jessica Remmers at Millions of Milkshakes on Robertson in West Hollywood to talk about her new web series "The Vanya Show" (premieres November 22nd on YouTube) and the blurring of the lines between being the character and the actor. 
In the vein of Sacha Baron Cohen's Borat and Bruno films,  "The Vanya Show" follows a megalomaniac Russian immigrant( played by Remmers), inspired by Oprah, to create a show she thinks will be unique and make her a household name.  The series follows her as she stumbles her way to stardom.
Meoli: What gave you the inspiration to do a web series?
Remmers: The idea of getting to be creative and do my own show has been incredibly empowering.  To take your career in your hands and create something, that is the inspiration.  It's super exciting as an actor not to have to wait for someone to hire me to work.  Meoli: Tell me about the creative process with your episodes?
Remmers: It has been such a collaborative effort.  Scott Haze, Michael Stratigakis and I have been the nucleus of the project from the start, but so many other amazing talented people have come in and offered to write, or direct, or offer their technical geniuses. That is what's so great about creating a project. Brad Kasaboski, who plays my brother on the show, has also written and directed an episode.  We have all contributed in the execution of getting this show going in one form or another, all for the love and belief in the project.  Most of us have known each other for years and it's so great to get to work with friends.
Meoli:  What is it about Hollywood that makes it the backdrop for Vanya?
Remmers: Vanya is Hollywood.  Vanya represents what so many people come to Hollywood for, and takes it to the max.  She wants stardom and will stop at nothing to get it.  She recognizes what she has to offer the world and makes sure to put it out there.  It's in the shamelessness that we find the comedy of the show.  What is so interesting about Hollywood, is that if you believe it and put it out there, people are eager to accept it, they eat it up, in fact, they root for Vanya and want her to succeed.
Meoli: Have you found yourself getting immersed in the character and what are the boundaries for you?
Remmers: Absolutely, Vanya has taken on a life of her own, as different as she is from me, there is so much of myself in her. I get to really let loose, be bold and daring, silly and quirky and its super fun. The courageousness of Vanya has definitely rubbed off on me a bit and has taught me more about acting than any class ever could. When I am in public, I have no choice but to BE her, all the way and people love her.  Most people think she is real person (except your savvy readers, and friends) and even the people who know it's a character love to play along and believe in the circumstance.  Boundaries?  I want to see how far we can take her, after all, she is REALLY trying to get a star on the walk of fame…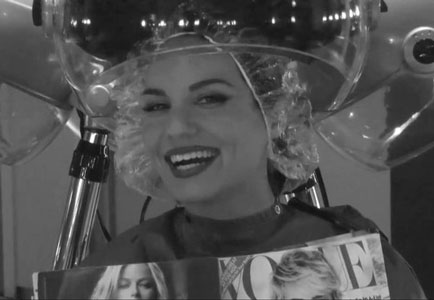 Meoli:  Who else is in the series?
Remmers: Great cast, many of whom go back with me to studying at Stella Adler and Neighborhood Playhouse.  Most recognizable faces on the show are Jim Parrack (True Blood and BATTLE LA), Katharina Magdalena( cast in the upcoming Gary Oldham MacBeth film), Brad Kasaboski, and Scott Haze ( one of the leads in an upcoming movie James Franco is directing), among other talents.
Meoli:  What other projects are you working on?
Remmers: I am also doing regular (weekly) video VLogs on YouTube as Vanya, in between episodes which have taken on a unique life of their own.  I'm excited to see where the comedy stuff leads as most of my recent work has been drama.  I recently starred in a film called "The Taste of Copper" where I play a scientist . That's in Post Production now.  I also was in a horror anthology called "The Theatre Bizarre" which is set to hit theatres in January 2012.  I have been learning so many facets of the industry and am excited to branch out and work on more of my own projects
Tha Vanya Show premieres today at www.youtube.com/thevanyashow
Plus more at www.thevanyashow.com
Christian Meoli is an accomplished actor/writer/producer/film executive/journalist at Cabaret Voltaire, Inc. an Entertainment and Media Services Co. Follow him on Twitter @christianmeoli