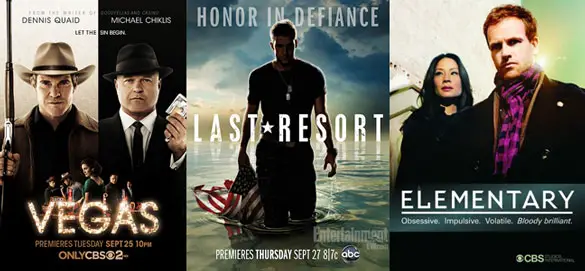 Vegas: TUNE IN
It's true this show wants to have a Mad Men feel to it—TV execs keep trying to replicate the swinging '60s with ill-fated attempts like Pan Am and The Playboy Club.  But Vegas uses enough of a crime procedural structure to lure viewers in. 
The best part of the CBS series is the casting of Dennis Quaid as a cowboy sheriff out to keep his city from getting too seedy and Michael Chiklis (The Shield) as a mobster who is eager to shape the Strip into a bustling epicenter of shady dealings.
Viewers expecting crisp dialogue might be a tad disappointed, but it'll be interesting to see how the characters develop over the season.
Last Resort: TUNE IN
Deemed one of the best dramas of the fall, this series has enough suspense and underlying mystery to provide viewers with a thrilling hour of television each week.  Last Resort follows the crew of a submarine who have been given orders to fire nuclear missiles at Pakistan.  A series of events leads the crew to be considered enemies of the state—and this is where the story gets really interesting.
The standout cast member is Andre Braugher (Men of a Certain Age) as the Navy submarine captain who must make impossible decisions while the rest of the crew sweats nearby.  You can tell the ABC series is well-written because there are quite a few of these scenes, and each one still feels equally tense.
The writing is sharp, and there were several nail-biting moments in the pilot that makes it look like there will be plenty of twists and turns to look for in upcoming episodes.
Elementary: TUNE IN
This new CBS drama is pretty much like Sherlock Holmes meets House.  With House no longer airing new episodes, the television market needed a new hero who can solve complicated mysteries by observing insanely tiny details.  Jonny Lee Miller provides a hunky version of the detective, with the main twist being his sidekick, Watson, is a girl (Lucy Liu).
There's nothing terribly innovative about the series, but the actors are given some interesting dialogue and Liu is (simply put) pretty stunning to look at.  However, the show will have to work more on character development (Holmes can't simply be an arrogant genius) for the action to really have meaning for the audience.