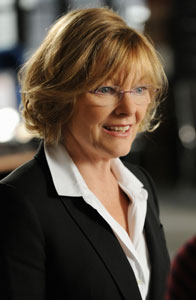 Actress Jane Curtin, best known for her television roles on Saturday Night Live, Kate and Allie, and 3rd Rock from the Sun, has been enjoying a career resurgence in a new part on CBS' drama Unforgettable. 
In an interview with Yahoo! News, Curtin spoke about her role as Medical Examiner Dr. Joanne Webster.  She said she doesn't get queasy around the gore.  "You reach a certain age, and I come from a culture of open caskets so you sort of get over that squeamishness.  You also know you're working on something that's not real.  I had to take a beef heart out of a dummy cadaver in one scene, and I thought 'I could just sort of juggle these, I suppose.'"
Starring alongside Poppy Montgomery (Without a Trace) and Dylan Walsh (Nip/Tuck), the series has brought Curtin back to her old stomping grounds of New York City.  She said, "New York is a wonderful place to shoot.  The bystanders are great.  They are enthusiastic.  They respect the process, and you get the energy of the city.  Even when you're in the studio, you still have that New York aura, as you're dealing with New York teamsters and New York actors.  The city keeps feeding you this delicious energy."
When asked about why there's a sudden popularity of former Saturday Night Live cast members on TV (Chevy Chase on Community, Garrett Morris on Two Broke Girls), Curtin said, "We've all just reached the age where they need codgers.  If you stay in the game long enough, they'll call your name."
The actress has had an extremely successful career in the business.  She said, "I never really marketed myself, so each job I was given was a new marketing tool, and that would be the way I marketed myself.  I think if you go from show to show without doing that big PR blitz it's helpful because people can get pretty sick of your face if you're just out there all the time.  And keep a low profile, hold in your stomach and be a good sport."
Unforgettable airs on CBS, Tuesdays at 10 PM.