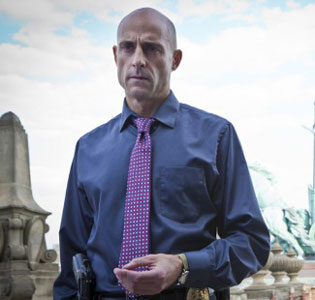 It often happens in the theater, but it does not happen often on TV. For British actor Mark Strong, he's reprising his role as Frank Agnew in the new AMC series Low Winter Sun. He originally played the character in a 2006 British miniseries which was the inspiration for the American show.
Strong talked to the LA Times about getting cast twice as the same character.
He said, "I think [showrunner] Chris Mundy was looking for somebody who could play 'the Mark Strong part' until somebody said, 'Have you asked him?' and he said, 'No.' Susie [Fitzgerald], who's the creative head at AMC, said, 'Oh, he makes movies, we're never going to get him.' And somebody said, 'Well, just ask him.'"
So something as simple as a phone call brought the 50-year-old actor back to the role he originated.
"And of course when they did, I was well up for it, because funny enough I'd been talking about various other TV shows, all of which I'd said no because I didn't want to leave home. But because I'd started the process of thinking what it would mean to go away from home for 4.5 months, and whether I was amenable to that, what it would mean to sign up for a project that could potentially last for 5 or 6 years. So I'd done all that thinking, so when it came 'round, the fact that it was a part that I did before, that I wanted to take further, and I didn't want anyone else to play him either, meant that the decision was an easy one," revealed Strong.
A British actor on American soil is nothing new these days anyway. In fact, it's become a trend to see British actors on U.S. TV. With Damian Lewis on Homeland, Hugh Dancy on Hannibal and Andrew Lincoln on The Walking Dead, Strong fits right in.
The AMC star shared his thoughts on why a British actor invasion is happening in television right now.
He said, "My theory is twofold. There's what TV has become, which is different from what it was 10 years ago. There's this theory that the studios are just doing these big tentpole movies for hundreds of millions of dollars and all the interesting little indie movies now don't exist, so all those writers have gone to TV. TV has changed, and it's changed for the better. In the past, all the cable channels were trying to find shows like the network shows, and now it's the exact opposite. All the networks are trying to find shows like cable. That's why I think British actors are happy to do it, because the quality of the writing is so good and the potential for character development is so great."
"The other thing is, I asked someone this, why are you casting British people? Because I've always thought that it's we have training, which means we know our lines, we hit our marks in an environment where you have to work fast and you can't muck about," continued Strong. "American actors are just as good, but the perception of the training of British actors lends itself to this process. And she said, 'Well, that's partly true, but we also don't know who you are. You're fresh, you're new, you haven't been doing TV for ages.' James [Purefoy, of The Following] hasn't been in other shows. Andy Lincoln hadn't done any U.S. TV. The thing is, we're unknown over here."
Now that he's familiar to American audiences, how does Strong feel about always playing villain, especially since being typecast can be tough for an actor's career? It seems the Brit has a refreshing perspective on this issue.
"When I got a part on TV a while ago, a gangster called Harry Starks on The Long Firm. I canvassed hard for that part, because they all thought I was too nice. I got it, it won awards, and then suddenly I got loads of villains. I had to make a choice, do I play these villains? And the fact is, they're great characters," he said. "I couldn't say no to any of them. So then it looked of course like I just played villains. That's why Frank is so great, he's half and half. He's a good guy who's a bad ass."
Strong added, "But everybody saw me play this bad guy and they thought he plays good bad guys. And what's happened since Zero Dark Thirty is I'm getting loads of parts for guys who know everything: The thing happens and then I come in and go, 'Ah, but you see, the real reason it happened is because of this!'"
For an actor with an abundance of great roles being offered to him, it's a terrific position to be in.