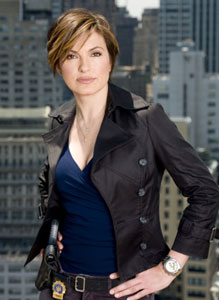 Mariska Hargitay has always been front and center on Law & Order: Special Victims Unit as Detective Olivia Benson for the show's entire run (its now in its fifteenth season).  But Hargitay's marathon run on the series almost ended early because of a haircut.
During the third season, Harigtay got her hair cut for an upcoming photoshoot.  However, the hair stylist cut a bit more than she expected.  She reveals, "My hair was so cute and then all of a sudden, he did the one irrevocable cut. I went, 'Oh! Oh!' and he said, 'What? Honey, you're gorgeous.' He kept going. He cuts it and then he leaves. I'm calling the producer at 10:30, [crying], 'I just got a haircut. I don't think it looks good!' I went over to the producer's house and he was like, 'Yeah, that's a problem.' When they saw dailies [at work], they weren't happy."
The problem? Hargitay was in the middle of shooting an episode.  In fact, when she called series creator Dick Wolf to tell him about the accidental cut, he replied, "I've fired people for less."  Obviously it all worked out, and Hargitay has continued with the series, even winning an Emmy in 2006 — long after the haircut that got her in so much trouble.
While I understand the issue of an actress making a change in her appearance during a shoot, what's odd to me is that in all of his years of television Wolf had not heard of a wig.