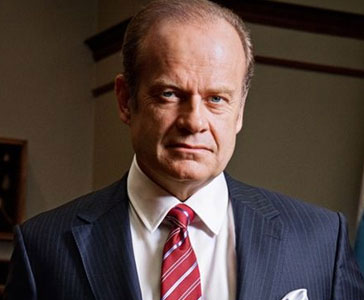 As Tom Kane, the Mayor of Chicago in the Starz series Boss, Kelsey Grammer has finally found a dramatic television role, which is something that has been eluding him for much of his career. 
Speaking with the Los Angeles Times, Grammer reveals how he manages to portray a character that is completely different than his past comedic roles — and how his current role relates to the possibility of his own real-life political future.
Though Boss is a one hour series, each episode is shot relatively quickly — the typical episode is shot in eight days.  For many actors that might be an unbearable pace, but for Grammer — who has spent half his life in episodic television — finds it liberating with an experienced cast, explaining, "I actually love working fast — those limitations can be freeing. There's an honesty to it — you just go with your gut and jump into it. But you need people who are experienced, who can access themselves as quickly as possible. Firing on your first impressions can be really effective."  After spending two decades playing Frasier Crane on the sitcoms Cheers and its spinoff Frasier, one would expect that Grammer would find the dramatic acting required of Boss difficult. 
But Grammer claims he actually finds it easier, saying, "With drama, you just get to pour it out. Tip the vessel over and out it comes. I just behave openly, in the context of what I know Tom Kane's situation is. Of course, it requires a lot in terms of focus. But to make sure that a comedy succeeds, there's more artifice and manipulation involved. You have to worry about the timing and how the whole cast comes together and also how to make it resonate emotionally."
But in an life-imitating-art situation Grammer, a lifelong conservative, has often expressed his interest in one day running for Congress.  However, his desire to act trumps his desire to serve the public.  He jokes about this problem, explaining, "Getting into politics has always been in my head… But it has always been there that I want to do my part for my country if I can. Fred Thompson pulled it off — being both an actor and a politician — but I think I'd have to leave acting behind before I could do it. That's something I would do when I'm finally an adult."