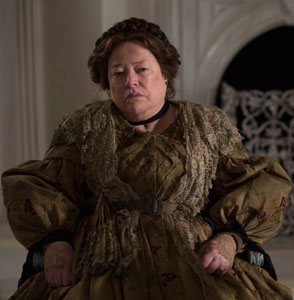 Actress Kathy Bates has had tremendous success on the big and small screen. Harry's Law fans rejoiced when she returned to television this season in the third installment of the American Horror Story anthology on FX.
Her role in American Horror Story: Coven as 1800s-era serial killer Madame Delphine LaLaurie has entranced audiences for her haunting performance. She spoke to Vulture about her role just as she was about to do a rather mundane chore.
Bates laughed, "My manager was horrified I was doing my laundry in a laundromat. I was like, 'Susan, I enjoy it! It's a lot less expensive than the hotel. C'mon! What's the big deal?"
Even with an Oscar on her mantel, the 65-year-old actress is grateful that creator Ryan Murphy is writing characters that appeal to all ages because not everyone is writing for women over the age of 50.
"He somehow understands how to write for us, and not every guy does, especially for older women," she said. "You either got it or you don't. Either you understand who they are or you don't. Either you've got their voices or you don't."
Her co-star Jessica Lange, who has appeared in all three installments, wanted to sing and dance in Season 2 and Murphy honored her request. Vulture wanted to know if Bates had any similar suggestions for her character.
Bates shared, "No, no I haven't done anything like that. I'm just so grateful to be in the damn show. Well, I guess the only request I made was when was I lobbying for a French accent. Delphine was French. Ryan just looked at me and went, 'No. French. Accent.' I thought it would be fun! But he had a larger view of the landscape and wisely held me in on that one."
It might have been a whole different take on the character, but clearly Murphy knows what he's doing.
American Horror Story: Coven airs on Wednesdays on FX.