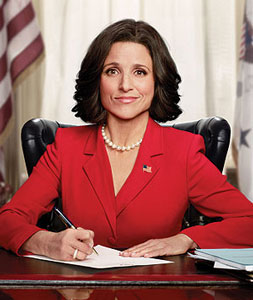 Is it any surprise that Seinfeld star Julia Louis-Dreyfus has been nominated for Outstanding Lead Actress in a Comedy Series for Veep, an honor she also received every year from 1992-1998 and 2006-2010?  The iconic television actress continues to receive accolades in her fourth decade on television, and she speaks to The New York Times about what it's like to be nominated so many times and what she credits her success to.
Louis-Dreyfus is… well, frank, when she describes how she feels about being nominated for an Emmy (her thirteenth — and she has won twice).  She reveals, "Being nominated never gets old. Ever. It's like sex. It always feels good." 
As for why she has been so successful — her thirteenth nomination ties her with none other than Lucille Ball — Louis-Dreyfus admits that it all begins with the material, saying, "Fundamentally, the challenge is always trying to find good material. And it's not like there's gobs and gobs of it out there, ready for the plucking. The trick is finding the well-written word and luckily for me I came across it in this show."
When asked if she feels it is more difficult to make it in television for a woman or someone who has appeared in iconic roles previously, Louis-Dreyfus disagrees.  She explains, "No, I don't think so. I don't think about it. If it is harder, I'm not aware of it. I suppose there are plenty of jobs I didn't get because of roles I've played. But I don't focus on that because otherwise I'd give up. I adore performing and I've just been fortunate in finding good stuff. It sounds very Pollyannaish, but it's the truth."
The interviewer then asks a rather classless question about whether or not Louis-Dreyfus would want to put poison in the coffee of the first-time nominees.  Thankfully, Louis-Dreyfus retorts with grace, replying, "Oh, good lord, no. I'm a huge fan of Lena [Dunham] and Zooey [Deschanel] — all of these gals. I'm so grateful to be in the group. Consider the alternative. I might not have been. This particular moment, this snapshot of what's going on, on television for women right now – it's good stuff for women. As it should be. And these women are strong and in charge of the funny. And I like that."
That's very well put.  As for the interviewer, leave the jokes to Julia!