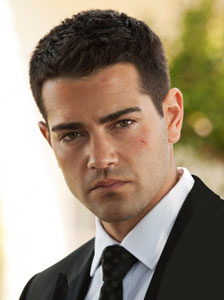 Jesse Metcalfe is probably best known for his role as the hot gardener on Desperate Housewives but he has a new role on TNT's Dallas remake as Bobby Ewing's adopted son, Christopher.  In an interview with The Kansas City Star, Metcalfe talked about his acting career, his time at NYU and what motivates him to succeed. 
Metcalfe admits that he was shy as a teenager.  He said, "I was relatively social.  I always had a girlfriend.  But I was a bit shy…The shyness and insecurity when you're acting, it does melt away because you're not really being YOU.  And you can really put yourself in the circumstance of your character and think your character's thoughts.  It takes you on a personal journey."
The 33-year-old credits his upbringing as the thing that created his drive.  He said, "My formative years, my childhood and some of my high school years, I wasn't the most popular person out there.  Sometimes that surprises people, but I think that really drove me, propelled me to succeed, specifically in this industry."
Later Metcalfe attended New York University, where he ended up taking acting classes.  He said, "We did this exercise where they place an empty chair in the little room and you walked around the chair and said one line to the chair.  You pretend like somebody was in the chair, but you kept that in your head, you kept that a secret.  You walked around the chair and kept repeating the line, and I had, I guess, a breakthrough—I guess my first acting breakthrough where I felt like I transcended myself and I was in the moment and deep emotion came out of me, and I said, 'Oh, I like this.'"
He continued to feel the same driving force once he hit Hollywood, where he landed a part on Passions.  Metcalfe said, "I think the thing that most defines me as a person is my drive to succeed, my ambition.  It's difficult to go into what drives someone because it's kind of private and some people don't want to share that with the world.  It's sort of like an actor's secret; their secret weapon, and you don't want to reveal your secret weapon.  But I have some family things that really drive me to be the best man I can and to succeed."
Metcalfe finds he can incorporate this drive into the role he's currently playing.  He said, "If you bring some of the issues that you're grappling with in your life into your work, oftentimes you find resolution in the world of the story that you're creating.  That's why I love this character of Christopher that I'm playing on Dallas, is that, in a lot of ways, he's very much like me."
Dallas premieres June 13 on TNT.