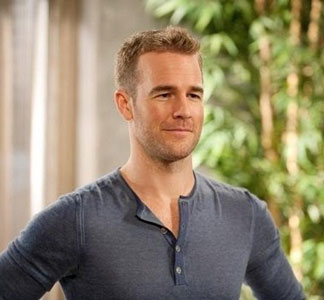 James Van Der Beek isn't too sad that his time on Don't Trust The B in Apartment 23 is over.  He's picked up a role on a new CBS sitcom and playing himself on the cancelled ABC show did help him put his Dawson days behind him.
"It took me out of one mold that I'd been in for awhile.  It's tough to compete with something that was the cultural phenomenon that Dawson's Creek was," he said in an interview with Vulture.  "It ran for so long.  That's a lot of hours playing one character in front of people.  So it's natural that they associate you with that.  And also the nature of television, you're in their living room, so it's even more immediate.  I wish I could say it was a calculated, intelligent decision, but it really was just something that I thought was funny, that I hadn't really done before, and there were just great people involved.  In terms of what it did for me?  It was an opportunity to do comedy on a regular basis.  Which I really enjoyed.  I feel like walking down the street, I do get called Dawson a lot less these days.  So maybe that's a measure of what the show did.  Now when people mock me on the street, they use my real name.  So there you go."
Van Der Beek hadn't been planning exactly what he was going to tackle next in his career after Don't Trust the B was pulled off the air.  But his new show, Friends with Better Lives, represented a good opportunity to him.
"I thought 'Do I want to do a gritty, dark cable show, do I want to just do features?'  And then Friends With Better Lives came along, and I really like Dana Klein, who created the show," he said.  "And they talked about rewriting it and tailoring it to me, and then James Burroughs was directing it—who's the multi-camera legend.  He directed all of Cheers, Will and Grace, Frasier.  And he was doing the pilot.  So I thought doing that pilot would be an opportunity to take a master class with him.  Again, knowing that CBS's schedule was pretty chock full. 
"They had what they needed in terms of comedy.  So it was not a 'Hey, what's going to get picked up?' kind of calculation.  I just thought it would be fun to do, I liked the people involved, and they got a really great cast.  And I've never really done a lot of multi-cam before, or TV in front of a live audience.  I started out doing theater, so I thought, this might be a fun way to get in front of an audience on a regular basis, and also be a job that would allow me to see my kids.  So all of that factored in.  And we got picked up."
Although Van Deer Beek will go back to playing a fictional character, he did enjoy playing a camped-up version of himself on Don't Trust the B.  "I remember the first time I did an episode of How I Met Your Mother, I was talking with Neil Patrick Harris.  And Neil said something about, 'Have you learned how to have fun with the whole image, really lampoon it?'  At the time I said, 'Oh yeah, I was doing that even while I was on the show.'  And he kind of said, 'Okay,' and nodded.  And cut to me on the FOX lot really lampooning the image.  It's just fun to stay in the game.  And I think that's probably the most important thing for an actor, especially one with success in the past.  Just stay in the game.  And that's what Apartment 23 allowed me to do."