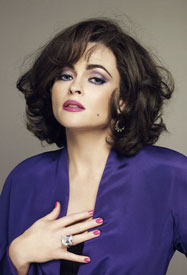 One of the most challenging roles for an actor to take on is playing an Hollywood icon. Fans have expectations of how their favorite star should be portrayed and the actor often has big shoes to fill.
Helena Bonham Carter recently tackled the role of Elizabeth Taylor opposite Dominic West's portrayal of Richard Burton in BBC America's Burton and Taylor. She was hesitant to accept the role and even her mom thought she was nuts. However, when she read the script by William Ivory, Bonham Carter was riveted.
She said, "It was amazing. I couldn't not do it."
Once the contract was signed, the 47-year-old actress really how lucky she was to have the role.
"That's one of the things about being an actor." said Bonham Carter. "You get these little gifts. You get to step into the lives of these people you know about, but don't really know. It's a challenge."
The British star had to dive deep into Taylor's fragile yet incredibly resilient psyche. She talked about one particular scene where she had to react to negative reviews that Taylor received during the national tour of Noel Coward's Private Lives.
"What I really like about that scene is the way she starts off angry and upset and then finally comes around to 'F—' em.' She was an incredibly strong and tough woman," said Bonham Carter.
The actress had to do a lot of research about Taylor on her own time because the production had a very short shooting schedule and she wanted to get her portrayal down pat.
She shared an insider's look into several of the scenes on the BBC America shoot.
"We had 18 days to shoot it. It was a tight budget. There are scenes with dogs in them, but we only had dogs for one morning, so in several of the dog scenes where you see a leash, there's no dog on the end of it," she said. "When we were shooting scenes that had to look like the streets of New York, we only had one yellow cab. When we shot the Private Lives scenes, we were working in an empty theater. The audience was added later with CGI."
Sometimes Hollywood is all smoke and mirrors.
Burton and Taylor airs Wednesday, Oct. 16 on BBC America.