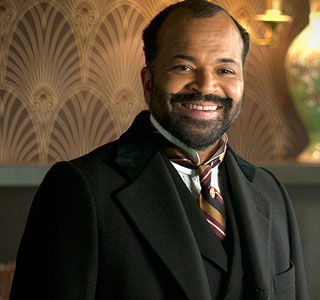 Jeffrey Wright has had a prolific 2013, appearing in Broken City, The Inevitable Defeat of Mister & Pete, A Single Shot, Only Lovers Left Alive, The Hunger Games: Catching Fire, and, of course, a brilliant season-long arc on HBO's Boardwalk Empire.  This comes off a period when Wright did not make many appearances in films (Wright did not appear in any films released in 2009 or 2010, and only supplied his voice to a film in 2012), especially after appearing in high profile roles previously.
In a conversation with The Associate Press, Wright spoke about why he's working more now, how he copes with not being considered a household name, and why he considers himself a struggling actor at times.
As for his lack of recognition among audiences, Wright points to his hiatus and his ability to meld himself into a character.  He says, "I don't mind that I am not necessarily a household name because I think my characters have outshined me. That was by design. And I'm not wanting for appreciation. But for the past 10 years or so I kind of pumped the breaks on acting and have been intentionally doing smaller roles that didn't take me away from home for three months because I wanted to be with my son and daughter (with wife Carmen Ejogo). Over the last couple of years I've started to go away and work a bit more."
Wright does not view himself so much as an African American actor as he does a struggling actor in general.  He explains, "I don't really consider myself a black man in Hollywood. I live in Brooklyn … and on purpose. At the most base level, what an actor represents to the film industry is an investment. Depending on the risk profile, an investor needs 1,000 reasons to commit and one reason not to. That means you've got to do more work on your own and that the machine is not going to necessarily do the blocking for you. The machine rarely accepted my code. That can be frustrating, but you just have to be aware."
via Yahoo!