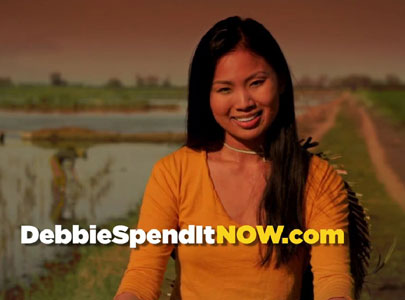 U.S. Senate candidate Pete Hoekstra (R-Michigan) didn't win himself too many fans with a recent campaign ad that portrays Chinese people as job-stealers with goofy voices, and the 21-year-old actress who portrayed a Chinese woman in the spot probably wouldn't a popularity contest right now, either. 
At least recent college graduate Lisa Chan is trying to make amends for her role in the controversial DebbieSpendItNow.com advertisement.
"I am deeply sorry for any pain that the character I portrayed brought to my communities," said Chan in a recent post on her Facebook page. "As a recent college grad who has spent time working to improve communities and empower those without a voice, this role is not in any way representative of who I am."The 30-second spot attacks Hoekstra's opponent, Democrat Debbie Stabenow, as a financially-irresponsible politician. In it, Chan rides up on a bicycle and thanks Stabenow for how her free-spending attitude has made China's economy stronger and the U.S.' weaker.
"It was absolutely a mistake on my part and one that, over time, I hope can be forgiven," Chan continued in her post. "I feel horrible about my participation and I am determined to resolve my actions."