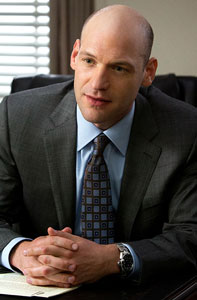 Corey Stoll looks quite different than he did as a teenager.  Calling himself 'morbidly obese,' Stoll admitted he decided to lose the weight after trying to select roles for an acting showcase in high school.
"Someone said, 'How about the Elephant Man?  How about the Hunchback of Notre Dame?'" Stoll recalled in an interview with Yahoo! News.  "I mean, these are amazing roles, but are these the only roles I'm good for?"
Stoll struggled with overeating most of his early life.  "I was a fat kid in junior high school and high school, and around the end of high school I really buckled down and decided I wanted to be a different person by the time I got to college," he said.  "And I still swing every year a good bunch of weight.  I can kind of relate to that boom-and-bust cycle.  That was kind of my way in, instead of trying to do some weird thing where I got really drunk and recorded myself or something like that."
The actor, who currently stars in Netflix's original show House of Cards, has had to adjust to being on camera despite his former body issues.  "The more I'm a character, the easier it is," he said.  "I can't stand looking at photos of myself on a red carpet or something like that.  And those times when I'm feeling thinner or I'm in better shape, it's definitely easier to watch."
To prepare for his role as Peter Russo in the series, he didn't really dabble in alcohol like his character.  "In fact, I was actually pretty clean when I was shooting it because I knew I had to do some nude scenes," Stoll confessed.  "So I was living a very healthy, active lifestyle.  I did a lot of reading about recovery, and I found that very helpful."
Although Stoll is getting more lead roles (including the upcoming FX drama The Strain), he still considers himself a character actor.
"If you look a certain way, people say you'll be a character actor," he said.  "I will always be a character actor of some sort because of my look.  And I happen to be very lucky to have been born at a time when you can be more than a biker or a prisoner with a shaved head.
"I'll never not feel like a character actor.  I don't think it's a bad thing.  I think feeling like you have to transform for a role is the only way I know how to do it.  Often the roles I feel like are the closest to me are the most challenging.  I try to find some hook that's really different from me, whether it's an accent or a hairpiece or some kind of prosthetic."
If Stoll keeps turning out great performances, his looks won't matter as much anyway.