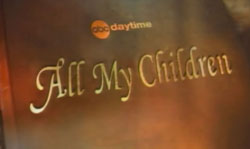 When we last checked in on canceled ABC soaps All My Children and One Life to Live, which have been picked up by production company Prospect Park to be put online, Prospect Park was in the thick of negotiating with unions and on contract issues with the shows' sizable cast and crew.  One of the possible solutions for the huge costs (which run as much as $50 million a year to produce for each show) was if Prospect Park could work out a television syndication deal.  According to Deadline, such a deal is being currently shopped to cable television stations.
Per Prospect Park's deal with ABC the shows will have to premiere online on a first-run basis, but there doesn't seem to be an issue with running the shows afterwards on television.  This would be an excellent approach for a variety of reasons: first, the target audience for soap operas isn't noted to be the most web savvy, so a "pay per view" internet model could likely be unprofitable as a result.  Second, actors on the shows can be comforted by the fact that their shows are still "television" shows and not some online-only castoff.  I know most actors are thankful to get work anywhere, but the "prestige" of television certainly adds sweetening to current cast members continuing on with the series and attracting future cast members.
The article suggests that USA Network — which already airs Prospect Park's Royal Pains — could be a potential home.  After all, cable networks like USA tend to run nothing but syndicated reruns or movies during the day, and if Prospect Park is paying all the production fees for the two shows it doesn't seem like a cable network would have much to lose from airing the ABC soaps (the most likely home, SOAPnet, which currently runs reruns of both shows, is being rebranded as a Disney kids network in January 2012 — so that option is out).
In any event, All My Children is set to debut on the Internet in some fashion on September 26, while One Life to Live will follow on January 23.