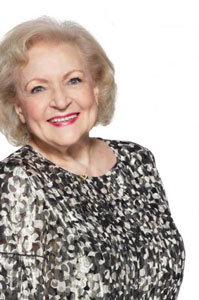 Betty White can add one more accolade to her accomplished career.  She has been awarded the Guinness World Record for "Longest TV Career for an Entertainer (Female.)"
Her career began in 1939, and she went on to star in some of television's most beloved series, like The Mary Tyler Moore Show, The Carol Burnett Show, and Golden Girls.  The 91-year-old has kept busy in recent years starring in TV Land's Hot in Cleveland.  She made another record when she became the oldest person to host Saturday Night Live last year.
"I was astounded when [Guinness World Records] called to tell me.  Who?  Me!?!  It's such an honor," she said in an interview with Huffington Post.  "[Aspiring actors] should do their homework and take the time to appreciate their profession.  It is a privilege to do what we do."
The Guinness World Records 2014 will be available in stores starting September 12.