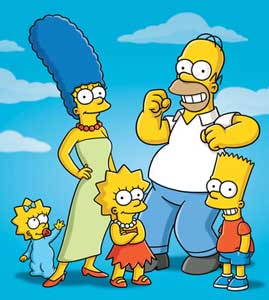 Every few years the core Simpsons voice actors — Dan Castellaneta (Homer), Julie Kavner (Marge), Nancy Cartwright (Bart), Yeardley Smith (Lisa), Hank Azaria (Moe, Chief Wiggum, Apu), and Harry Shearer (Mr. Burns, Principal Skinner, Ned Flanders) — find themselves in the middle of often tense negotiations for their next contract for the long-running animated series. 
After all, no continuously-produced animated television show has ever come close to lasting as long as The Simpsons has, so the actors are always in uncharted territory during their negotiations.  But the crew's current salary dispute threatens to actually put an end to the show after its current twenty-third season.
Currently each actor makes $440,000 per episode, but 20th Century Fox TV has taken into account the series' declining ratings to offer the actors $250,000 per episode.  The Simpsons Six each have made $9 million per season for the last four seasons, and Fox's offered deal nearly cuts that in half ($5 million).  A compromise deal submitted by the actors — $300,000 per episode with back-end payments — was rejected by Fox, but negotiations are still ongoing and reportedly both sides are willing to work it out.  It seems the sticking point are those "back-end" payments — the voice actors insist that the show has grossed profits of a billion dollars, which is expected to reach nearly three billion by the conclusion of the current season.  As the voices that have been ingrained in our culture for nearly a quarter century, the actors obviously want to make sure they're being compensated for the financial juggernaut that The Simpsons remains even today.
Honestly I haven't watched The Simpsons in years, but as long as the show keeps churning out episodes and making huge amounts of syndication money I understand why the six primary voice actors want to get as big of a chunk of it as possible.  After all, most of them have very little success outside of The Simpsons, so I imagine that some kind of compromise deal will be worked out to keep the cast together and those Simpsons paychecks coming in.
Via Yahoo!