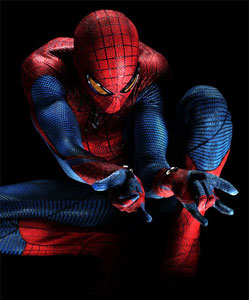 Here's the official trailer for The Amazing Spider-Man. It was leaked earlier this morning and Sony just put this up onto Yahoo. I was hoping they would save it for the Comic-Con panel this Saturday.
I love Spider-Man and think Andrew Garfield is a great choice for Peter Parker but I have no idea why they are re-hashing the origin story again.
The trailer is kind of 'blergh' until you get the POV of Spidey swinging around New York City.
Here's the synopsis from Yahoo: A teenage Peter Parker grapples with both high school and amazing super-human crises as his alter-ego Spider-Man.

Director: Mark Webb
Cast: Andrew Garfield, Emma Stone, Rhys Ifans, Irrfan Khan, Martin Sheen, Sally Field, Denis Leary, Campbell Scott, C. Thomas Howell
In Theaters: July 3, 2012