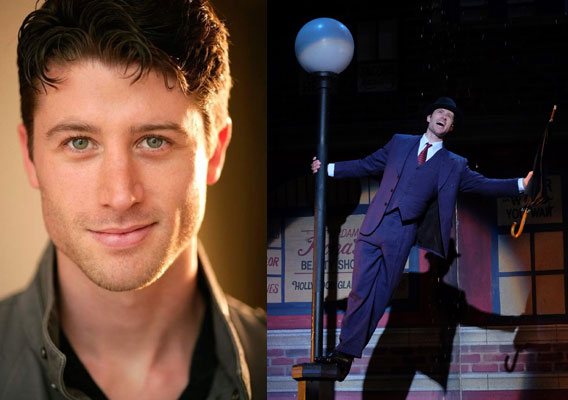 San Diego Musical Theatre's Singin In The Rain is making a big splash at Spreckels Theatre in downtown San Diego. And I should know because I play 'Rod', the press agent and a pivotal character in the show. OK, not really, but hey, I'm in it and I'm having a fantastic time! The show, based on the 1952 movie musical of the same name, is about 1920's Hollywood, that starred Gene Kelly, Donald O'Connor and Debbie Reynolds.
San Diego native, Brandon Davidson takes on the iconic role of Don Lockwood, made famous by Kelly, and I have to say he's terrific in the part. Brandon is the classic triple threat but even better than that, he's the nicest guy you'll ever meet.
I talked to Brandon on the eve of last weekend's opening about the show about his role, being on stage at the Spreckels and the craziest thing to happen to him on stage. As an added bonus, ensemble member Laura Bueno joins in and also answers a few questions!
For ticket information, check out SDMT.org
Tell me about playing Don Lockwood.
Brandon Davidson: Don Lockwood, through various attempts during his youth, was discovered for his song & dance skills and was swept up by the Silent Film sensation in the 1920s. Although he has to play the part of the suave movie star to the public, he really has a big heart underneath and is playful.
Are you looking forward to being on stage at Spreckels?
Brandon Davidson: Absolutely. The Spreckles holds almost a century of performance ghosts. It is a rareity to find such an old fashioned gem in Southern California. These types of theatres exist in droves on the East Coast, and I am thrilled to be keeping the spirit of live performance going at this historic venue.
What's the craziest/weirdest thing ever to happen to you onstage?
Brandon Davidson: Last time I performed Don Lockwood, the mechanism that produced rain failed to work one performance. So I decided to perform the number looking at the sky, kind of begging it to rain – As if to say, "C'mon rain gods, let's have it!"
Do you have any audition nightmares?
Brandon Davidson: Not audition nightmares – but I have had the "actor's nightmare" where all of a sudden I am thrust onstage with the wrong costume, and I am expected to know all the lines and songs (of which I don't in my dream).
How is it to be a part of Singin In The Rain cast and the SDMT family? 
Brandon Davidson: Without a doubt, SDMT fosters a creative and safe space for rehearsal and performance. Not only is the SDMT family a kind one, but they spare no expense when it comes to production. Everyone in this cast is lovely and brings their best attitude to rehearsal and the theatre.
Laura Bueno: This cast is great! We are all committed to making this show the best it can be. Practicing on the sidelines and helping each other out is one thing I've noticed about this cast and company.
What is your favorite part of the show? 
Brandon Davidson: I love performing "You We're Meant for Me" with Brittany Hammond (who plays Kathy Seldon). It's the romantic, 1940s kind of song n' dance that first drew me to theatre.
Laura Bueno: My favorite part is the ballet since we get to portray so many different characters and the ensemble is really featured.
Do you have any fun rehearsal moments?
Laura Bueno: I loved seeing the rain onstage! I also enjoy learning all the choreography.
For tickets and more info, visit SDMT.org