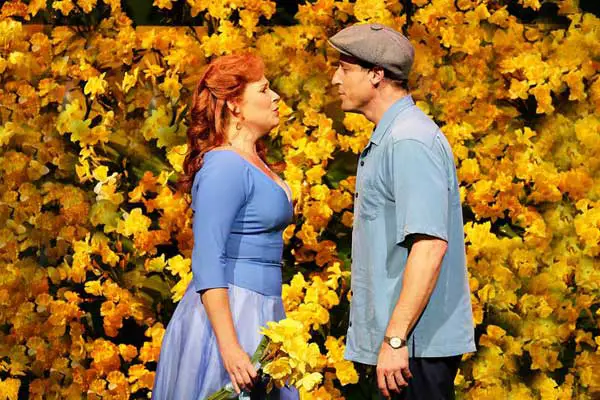 Big Fish had less than 100 performances during its Broadway run back in 2013. I honestly have no idea why audiences didn't take to it because I saw one of its last performances and truly loved it. Norbert Leo Butz was fantastic as Edward Bloom, the man who spins larger than life tales to his friends and family. Susan Stroman's direction and choreography were top notch and the songs were instant classics in my mind, particularly 'How It Ends' and 'Time Stops'.
I was actually a little hesitant when I went to check out Moonlight's version of Big Fish. Could it live up to what I saw on Broadway? Happily, yes.
Edward Bloom (Josh Adamson) is a traveling salesman who's got some stories to tell. Everyone loves them, even if they may or may not be true. His son, Will (Patrick Cummings), who is about to get married and have a child of his own, is the only one who doesn't believe the tales of his father joining the circus, meeting witches, kissing mermaids or having a giant named Karl as a best friend. When Edwards's health starts to decline, Will visits Edward one last time in hopes of finding out the truth behind these stories.
Directed by Steve Glaudini with a book by John August and lyrics by Tony nominee Andrew Lippa, the show is a treat to watch. The set is bright and full of colors and the music, led by Elan McMahan, fills up Moonlight's outdoor grounds.
And the cast doesn't disappoint. Adamson's Bloom is the genial fella you'd meet at any general store in the south. You immediately like him and it's not hard to figure out why he's got so many people who love him back. Bets Malone, as his wife Sandra, brings a warm touch to every scene and Cummings is an appropriate big city stiff – until the very last scene which will leave you smiling. Andi Davis is wonderful as Will's wife, Josephine. Davis has a knack for grounding every scene she's in and in this show of tall tales, that's a big feat. Equally good are Katie Whalley Banville (as Jenny Hill, Edward's former girlfriend) and Cris O'Bryon (Amos, the circus ringmaster).
Definitely check it out if you can. And I pretty much guarantee you'll be humming some of the tunes on your drive home.
Big Fish runs through September 26, 2015 at Moonlight Amphitheatre, 1200 Vale Terrace Drive, Vista. Tickets: (760) 724-2110 or www.moonlightstage.com