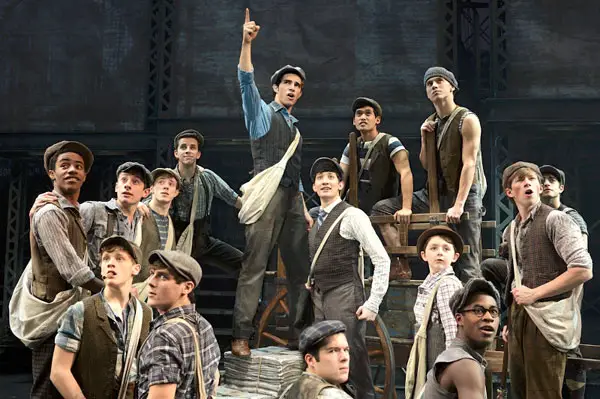 As someone currently in the middle of a big song and dance show (SDMT's 42nd Street), I absolutely loved the talent, incredible dancing and industrial style, New York set in Newsies, currently playing at the Civic Theatre in San Diego.
The musical is based on the 1992 film of the same name. That film starred a young Christian Bale and was (is) one of those movies that I would end up watching to the end whenever it was on TV. Both the film and stage show are inspired by the Newsboys Strike of 1899 where Newspaper owners William Randolph Hearst and Joseph Pulitzer raised the price of a newsboy bundle of 100 papers from .50 cents to .60. The strike lasted two weeks and cause new circulation to plummet.
The story here follows Jack Kelly (Joey Barreiro) and his fellow newsboys who manage to make a small living selling papers on the streets of NYC. When Joseph Pulitzer (Steve Blanchard) raises the price for the bundles of papers, or 'papes' as the newsboys call it, they decide to strike and make their voices heard.
The story itself (the book is by Harvey Fierstein) is a bit flimsy but what makes the show so winning is the terrific cast, especially Barreiro and Blanchard. Barriero's got a smooth voice, nice belt and flair for comedy. There's a scene between him and Katherine (Morgan Keene), a reporter who helps spread the word of the strike, that's particularly sweet and funny. Blanchard has a big, commanding voice and his Pulitzer shows levels that only a seasoned character-actor could pull off.
The dance numbers are terrific, especially the Act 2 opener which features some hardcore tap dancing.
Some of the songs, the music is by Alan Menken and lyrics by Jack Feldman, are forgettable, but with 'Seize the Day', 'King of New York', 'Santa Fe' and 'The World Will Know' it's easy to come away humming and singing them all hours after the show has ended.
Newsies is currently playing at the Civic Theatre in downtown San Diego. For tickets and showtimes: Broadway San Diego.