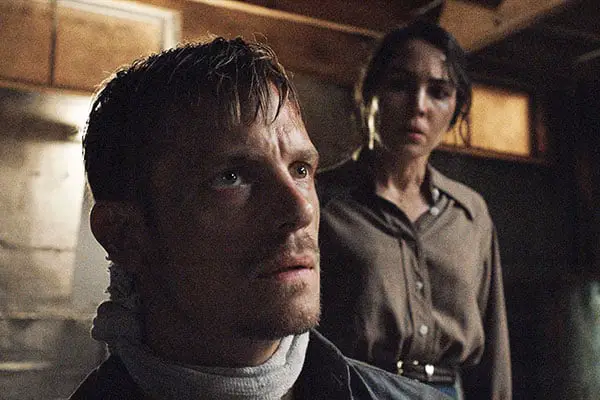 The Secrets We Keep, the new film from Yuval Adler (Bethlehem, The Operative) with a screenplay directed by Adler and Ryan Covington, doesn't waste any time getting the story started. Maja (Noomi Rapace), a Romanian woman now married and living in idyllic small town America, and her son are having a picnic. She hears a man calling out for his dog and recognizes it as a familiar voice from her past. She follows the man to his car and subsequently runs into him at the local hardware store.
That mysterious stranger turns out to be Thomas (Joel Kinnaman), a man who claims to be from Sweden. But Maja is absolutely sure that he's a former Nazi who took her and her sister prisoner years ago. She's so sure that he's the same man who raped her and killed her sister that she ambushes him alongside a road and takes him hostage, seeking revenge for what he did to her.
She tells her husband, a doctor named Lewis (Chris Messina), who is obviously shocked. Maja never told him about this part of her past or the atrocities that she lived through. They drag Thomas into the basement… Lewis is trying to figure out what to do next and Maja just wants to finish him off.
But is she right? What are the odds that the man who did is now living in the same town?
The cast is terrific. Rapace is always great portraying strong characters who are faced with extraordinary circumstances (see: The Girl with the Dragon Tattoo). And there is no doubt that Messina's Lewis doesn't love her, even though he's got no idea if she has the right person or not. Throughout the film, Messina's work is fantastic. Everything he does is all in the eyes and every time he's on screen he's projecting a million things at once. Thomas feels a bit underwritten. Kinnaman is great but you don't feel compassion that you probably should when he's pleading for his life, telling Maja and Lewis that he's got kids and a wife. And speaking of his wife, Amy Seimetz is perfect as a 1950s housewife who keeps her emotions in check.
The last 5 minutes of the film is perfect. It's mostly non-verbal and you can see how the previous events have changed everything for both Maya and Lewis.