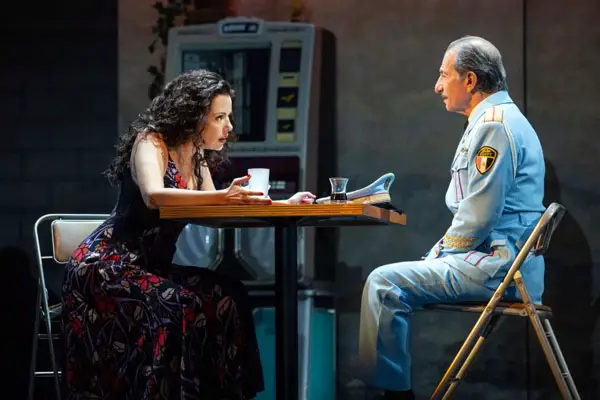 "Once not long ago, a group of musicians came to Israel from Egypt. You probably didn't hear about it. It wasn't very important." Those sentences are projected on the stage as the show begins but don't let those words mislead you. One of the wonderful things about theater is that it can make something interesting and compelling out of even the smallest of stories. Just like The Band's Visit.
Set in 1996, it's the story of an Egyptian Police Band, led by Tewfiq (Sasson Gabay), that has just arrived in Israel to play a concert. After a mix-up, they are left stranded in a remote desert town where they are welcomed by the people who live there, including Dina (Janet Dacal), the local cafe owner, and her employees, Papi (Coby Getzug) and Itzik (Clay Singer).
Directed by David Cromer from a book by Itamar Moses, the show is more like a play that has composer David Yazbek's wonderful songs sprinkled throughout. There's no rush to get to the next song but when they do, damn if it isn't great.
It doesn't fit into the standard musical theatre format and doesn't feel the need for big, splashy numbers. It's a more nuanced show with nuanced performances that'll stick with you.
Gabay and Dacal are perfect.Their scenes together are a masterclass in how to break down a scene, volleying back and forth and giving each a chance to shine. And the rest of the cast, including Getzug, Singer and Joe Joseph, is just as outstanding and talented.
The winner of ten Tony Awards, including Best Musical, the show, from start to finish, is sweet and funny. It's almost a guarantee you will not want it to end.
The Band's Visit is currently playing at the San Diego Civic Theatre through March 6th. For more info: Broadway San Diego