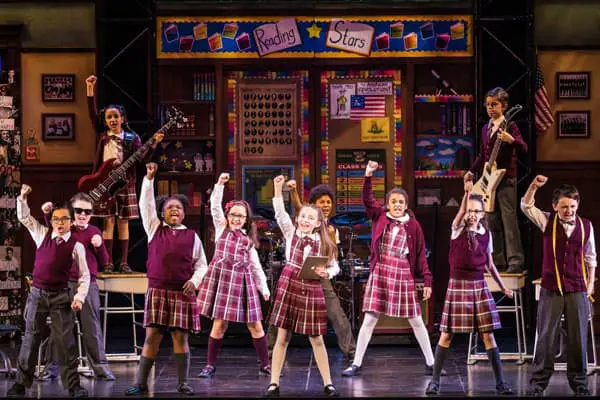 The group of incredibly talented young performers are having a blast in School of Rock, now playing at the Civic Theatre. And they are every reason to check out the show this weekend.
The new musical, which follows story line of the film of the same name, has down-and-out dreamer Dewey Finn (Rob Colletti) substituting a class of kids at the  at the uppity Horace Grace School. Once he finds out that each student has a talent, either musically, vocally or in the case of know-it-all Summer (Iara Nemirovsky), managerial skills, he comes up with the idea to form his own band and enter them into the town's Battle of the Bands contest.
The show, created by none other than Andrew Lloyd Webber with a book by Julian Fellowes (Downton Abbey), lyrics by Glenn Slater and direction by Laurence Connor, is fun and while you won't walk away thinking about the meaning of life, by the end you'll absolutely be on your feet, clapping and smiling up a storm.
The cast of kids are the the reason you'll enjoy the show. Each one is as talented – and funny – as the next: Gilberto Moretti-Hamilton (Freddy), Olivia Bucknor (Shonelle), Grier Burke (Tomika), Theo Mitchell-Penner (Lawrence), Theodora Silverman (Katie) and Nemirovsky.
It's not to say that the cast of adults don't shine. Colletti is hilarious as Dewey, taking what Jack Black did in the film and turning it into his own.  And Lexie Dorsett Sharp as Rosalie, the school principle, contributes mightily.
The second half of Act 2 is really the reason to see the show. The musical numbers are wonderful and lighting designer Natasha Katz amps up the energy throughout. The entire cast is having the time of their lives and it radiates to the audience. Kids – of all ages – will have a blast at this show.
School of Rock is playing at the San Diego Civic Theatre through Sunday. For more info: Broadway San Diego