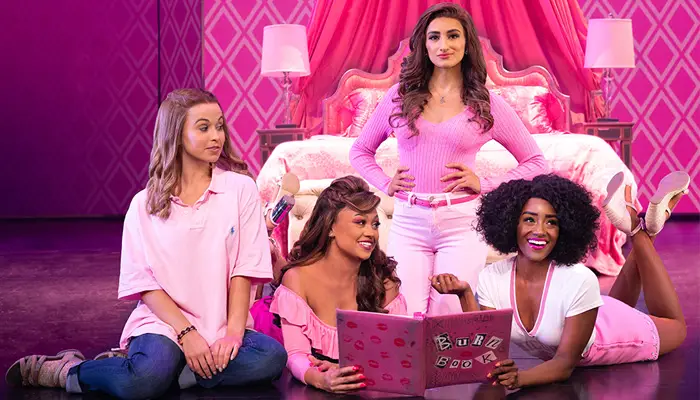 Mean Girls the Musical, Tina Fey's adaptation of her hit 2004 film, is currently strutting its stuff at San Diego's Civic Theatre till Sunday and if you're a fan of the film or Fey, it's definitely a must see.
Nominated for 12 Tony Awards, the story, like the film, follows Cady Heron (English Bernhardt), a new girl at North Shore High School in Chicago, who gets involved with the Plastics, a clique of popular and mean girls led by Regina George (Nadina Hassan). Cady, as part of a plan that her new friends Janis and Damian (understudies Adriana Scalice and Iain Young, both terrific) joins them as part of a plan to sabotage Regina's reputation, but soon starts acting like one of them. After losing her actual true friends and Regina exposing everyone's secrets in the Burn Book, she realizes she's got to turn things around, for better or for worse.
I did wish the numbers by Jeff Richmond (music) and Nell Benjamin (lyrics) were a bit catchier. Besides 'I'd Rather Be Me', you'll be hard pressed to name anything else from the show.
Special shout out to Finn Ross and Adam Young, whose video projections on the set were so remarkable and crisp, that it actually brings you deeper into the show.
Bernhardt is wonderful and her Cady is sweet and smart and as she morphs into a Plastic, it's really fun to watch. Scalice and Young as Janice and Damian, knocked it out of the park. And Young's tap number was was perfection. Get these two lead roles!
Hassan was ice-queen-erific and you'll just want to hug Jasmine Rogers as the needy Gretchen. Understudy Megan Grosso as the dim Karen was super funny. There wasn't a moment where you didn't have a smile watching her.
MEAN GIRLS the MUSICAL is currently playing at the San Diego Civic Theatre. For more info and tickets: Broadway San Diego