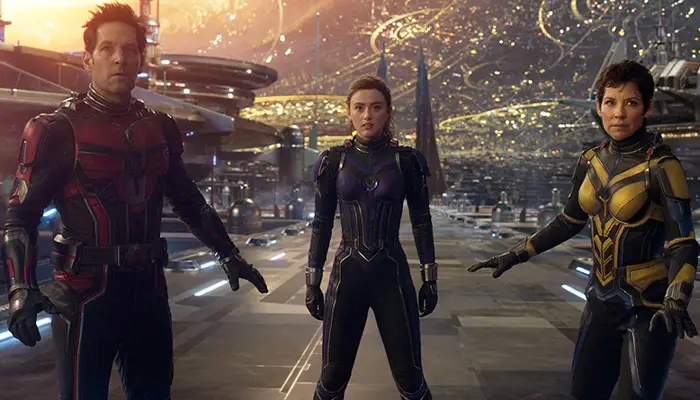 As a grown man, I was looking forward to Ant-Man and the Wasp: Quantumania more than I probably should have. The last couple of Marvel films left me a bit apathetic to how things were going in the Cinematic Universe. I liked Thor: Love and Thunder but I haven't thought of it since that first viewing and Black Panther: Wakanda Forever was a big 'insert shrug emoji.'
Thankfully, Paul Rudd, Michelle Pfieffer and a fantastic Jonathan Majors are here to save the day. Well, Rudd and Pfieffer are. Majors wants to burn it all down, at least his character, Kang the Conqueror does.
The film picks up where Avengers: Endgame left off. Scott Lang (Rudd) is happily floating along in life. I mean, what do you do after saving the world? In Scott's case, he's just published his autobiography and relishing time with his daughter, Cassie (Kathryn Newton), who it turns out is as smart (if not smarter) than original Ant-Man Hank Pym (Michael Douglas) and Hope van Dyne (Pfieffer).
Cassie has just invented a way to get information back and forth to the Quantum Realm, which turns out to be a bad idea because the gang is sucked into the Quantum Realm where the MCU's new big bad, Kang, lives in exile. He's been looking for a way out and he thinks Ant-Man can help.
Directed by Peyton Reed, who also helmed the previous films, has upped the ante on everything, both emotionally and visually. Emotionally because all Scott wants to do is to keep Cassie and his family safe. Rudd is always great but in this he gets to add a bit more anger when Cassie is in danger. It's really nice to see. The visual aspect is nice as well. The colors pop off the screen in a mind-bending way, as do the new characters that inhabit the Quantum Realm.
Pfieffer's van Dyne is back in her old stomping grounds and is given a lot to do and she's just a force. Think Cat Woman but not crazy. And Majors is freaking fierce. Every scene he's in, you can't take your eyes off of him. He's got this calm, quiet rage that just feels like it wants to erupt…. And when it does, it's off the charts.
It's got the humor from the previous films and some new emotional heft. Bring on the fourth!