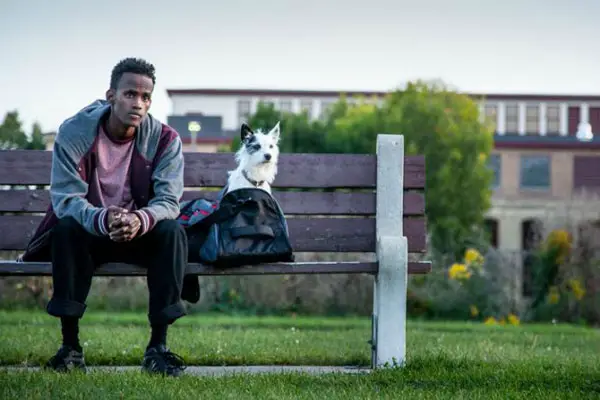 A man and his dog. There's really nothing more bonding than having one of those little furry creatures depending on you for friendship, love and yeah, food. A dog is a huge responsibility and in Musa Syeed's sophomore film, A Stray, Adan (Barkhad Abdurrahman) is learning that first hand.
Adan is a young Muslim refugee in Minneapolis who is just trying to do the right thing, but as he says in the film, "it's hard." He's really got no direction and once he's kicked out of his apartment and he's got nowhere to go. He ends up moving into a mosque where he trades cleaning for shelter. Once there, he prays for to find the right path, asking to find a friend who will help lead him onto a better path.
Turns out someone was listening and he quickly finds work in a local restaurant. But when the owner asks him to deliver food to a customer, that someone had different ideas. Adan almost hits a stray dog while driving. He quickly takes him to the vet where thankfully she's alright. He can't find anyone to care for it, so he's forced to take it for the night.
One thing I didn't know about Muslims is that they aren't a fan of dogs. They think dogs are impure and dirty and once his new employer finds out that he's got a dog, he's quickly fired.
Now, they're both back on the streets and he's got to figure out how to survive, for both of their sakes.
If ever a film was 'of the moment', this is it. This takes the Muslim community and humanizes it, gives it a much needed face. Syeed has a nice, lyrical way about his directing. He doesn't make anything heavy handed, things are just what they are. We find out what it is to be a young Muslim kid in Minneapolis with virtually no prospects in life. It's sad really. They come here for a better life but that 'better' is relative.
Adan isn't a fan of the dog, named Laila, at first. Yet, despite repeated attempts to give her away, he won't let he go. He barely touches it but the eventually start to form a bond, probably like nothing he's ever had and – and Laila – don't want to leave each other. Abdurrahman, who was also in Captain Phillips, gives a really nice performance here. You can see he's struggling with God, with where he wants to be in life, with owning a dog. He's understated and you just feel for him so much.
Laila the dog is tremendously cute. Adan walks along the streets of Minneapolis, while he carries her in a bag with her head popped out. How can anyone not love this pup? It turns out, Adan can.