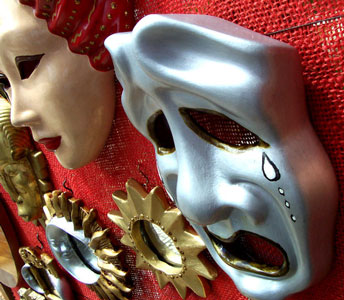 When jobless in a tough economic climate, sometimes the best plan is to go back to school.  After all, getting a degree that you could use toward getting a better job when the economy eventually turns around rather than dedicating all your time and energy searching for a job that isn't available at this time.  However, despite that often-shared advice, drama school applications in the UK have fallen by as much as 14.2% for the upcoming academic year.
Unfortunately, this isn't a sign that actors are forgoing training because they're getting more work: because of tuition hikes that go into effect for this year's class, it will cost approximately £9,000 (about $14,000 USD) a year to attend such institutions as the Central School of Speech and Drama and the Conservatoire of Dance and Drama's schools for three-year bachelor of arts degrees.  The schools are trying to combat the raised tuition price with additional scholarships and discounts.
This isn't to say that the schools are hurting for applicants — the Central School of Speech still has 103 applications this year for every available spot — but there is concern that the increased tuition deters drama students from lower economic standings from applying in the first place.  This has led to an increased number (11%) of students applying to the schools via audition, hoping that their work will lead to scholarships.  
Despite concerns about the increased tuition, Ian Kellgren, chief executive of the organization Drama UK, emphasizes the importance of drama to the overall economy of the United Kingdom.  He says, "It is not surprising if applications are down given the anxiety generated by the increase in student fees and the economic downturn. But the performing arts industry is a massive contributor to the economy and needs a skilled workforce. Drama UK looks to underline the anticipated skills shortage in technical areas and to support all talented potential performers from any background."
On the bright side, with less applicants it means there is less competition for spots.  So if you ever thought about attending drama school in the UK, now might be your best chance!
via The Stage