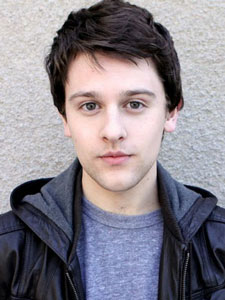 Have you heard of actor Travis Tope? While you might not know the name yet, this up-and-coming actor has been offered three big projects.
With only one film to his credit, MGM's upcoming 2014 horror flick The Town That Dreaded Sundown, this 22-year-old has some huge offers on the table. He's in negotiations to appear with Mark Wahlberg in the reboot of The Gambler, a lead role opposite Chloe Moretz in November Criminals and a teen role in Jason Reitman's project Men, Women and Children.
In addition to the work he might move forward with, Tope had to decline the opportunity to test for a role in Night at the Museum 3. There just wasn't enough time in his schedule.
A native of Plano, Texas, the young actor went from self-taping his auditions for local casting directors to testing for a role in Ryan Gosling's directorial debut, How to Catch a Monster. While the role ultimately went to Iain De Caestecker, Tope found himself cast in the MGM horror film just 10 days later.
Production wrapped on the Texan's film debut in June, but the buzz has been growing so quickly that he's found himself repped by some Hollywood heavyweights at UTA and Anonymous Content. His deals for the three film offers are expected to be wrapped soon.
Remember the name Travis Tope, 2014 might be his big breakout year.