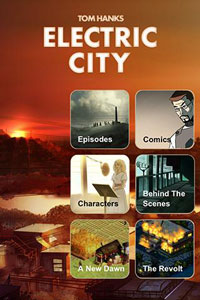 Tom Hanks is adding one more project to his already impressive resume.
Hanks has created a new animated Web series, Electric City, which he produces and provides a voice for.  Hanks explained to Arts Beat why he decided to take on this new genre of media.  "Our goal really was just to get it up and have it be a cohesive story," he said.  "Although no one else has, we gave up long ago the idea that you can make money doing this.  [laughs]  It has yet to happen, and I think it has yet to happen because at the end of the day it is all free.
"The only way you could probably make money is if you put it out there and somebody else comes to us and says, 'Hey, we'd like to do—blank.'  'We'd like to turn it into a series or movie.'  There's no crap shoot for us in our current status.  We can't lose money on this thing.  It exists purely for the content, for people to watch on—the Reliance guys [the Indian media company, who also produces] come in and say, there are a billion phones in India, a billion people will watch this on their phones in India.  What we're talking about is software for their hardware.  All we had to do is pay everybody's salaries, and then after that it simply exists."
The character Hanks voices is successful with the ladies and can take care of himself in a fight. The actor said, "Well, you gotta voice it somehow.  Sometimes you ask somebody to come in because their voice is really great.  And other times it's like, well, who do we know? [laughs]  I went in and did it.  It's enough of a vanity project as it is.  Is it still called 'Tom Hanks' Electric City? That's embarrassing.  I like to view it like it's Del Webb's Sierra Tahoe or Walter Lantz's Woody Woodpecker."
Hanks isn't concerned that this departure from his normal roles will affect his audience negatively.  "The reality is, none of that stuff matters anymore," he said.  "I'll speak in highfalutin tones if you wish: as an artist, my desire has always been to expand the horizon of what I get to examine.  And without a doubt, I have a countenance, if you want to call it that, that does in fact permeate every role I've ever done.  It's me, whether I'm executing people on The Green Mile or if I'm trying to figure out who this email lover is and it turns out to be Meg Ryan.  As a producer, we've already done some stuff that's pretty bodacious, I must say.  When the guys on Big Love said they want to do this thing about a renegade Mormon polygamy sect, I said, 'I've never seen that before—let's go.'  Our World War II stuff always kind of gets grouped into the patriotic celebration-of-heroes bag.  But one of the things I must say I always revert to—very rarely is there such a thing as an all-encompassing bad guy.  Everybody does things for very specific reasons and they can rationalize all their behavior.  And if you're so inclined, you can agree with them."
Electric City made its debut Tuesday on Yahoo.