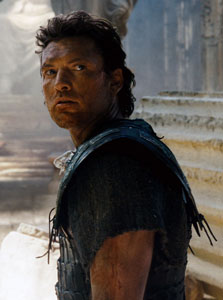 Sam Worthington, one of today's busiest leading men, reprises the part he created in the 2010 hit Clash of the Titans. He more recently starred in the title role of the dramatic thriller Man on a Ledge. Worthington's upcoming films include Simon West's Iraq War drama Thunder Run, with Gerard Butler, and the Australian film Drift.
Worthington was catapulted to global stardom with his performance in the 2009 mega blockbuster Avatar. Director James Cameron had hand-picked the actor to play the central role of Jake Scully in his groundbreaking science fiction adventure, which went on to earn more than $2.7 billion worldwide, making it the highest-grossing motion picture of all time.
A native of Australia, Worthington graduated from Sydney's prestigious National Institute of Dramatic Art (NIDA) in 1998. He began his career on the stage, appearing in a production of Judas Kiss, directed by Neil Armfield for Company B at the Belvoir Street Theatre.
In 2000, Worthington made an auspicious feature film debut with a starring role in the Australian film Bootmen. His performance brought him an Australian Film Institute (AFI) Award nomination for Best Actor. His subsequent Australian film credits include Dirty Deeds, with John Goodman, Toni Collette and Sam Neill, for which he earned a Film Critics Circle of Australia (FCCA) Award nomination for Best Supporting Actor, and Gettin' Square, with David Wenham. He also appeared in the World War II drama Hart's War, starring Bruce Willis.
However, it was his layered performance in Cate Shortland's critically acclaimed and commercially successful 2004 film Somersault that brought Worthington international attention. He won an AFI Award for Best Actor and earned his second FCCA Award nomination. In addition, the film made a clean sweep of the year's AFI Awards, winning in all 13 film categories—a first in the awards' history.
Worthington went on to star in the title role of Geoffrey Wright's 2006 contemporary adaptation of Shakespeare's Macbeth. He also starred with Christian Bale in McG's action thriller Terminator Salvation. His additional film credits include John Dahl's The Great Raid, and the independent features The Debt, for director John Madden, and Last Night, opposite Keira Knightley.
On the small screen, Worthington recently created huge buzz with an action-packed commercial for the videogame Call of Duty: Modern Warfare 3, with Jonah Hill. His earlier Australian television credits include starring roles in two award-winning series: Love My Way, and The Surgeon. He also starred in the Delivery Man episode of Two Twisted, an anthology series produced by Bryan Brown.
This biography/filmography of Sam Worthington is courtesy of Warner Brothers and Wrath of the Titans