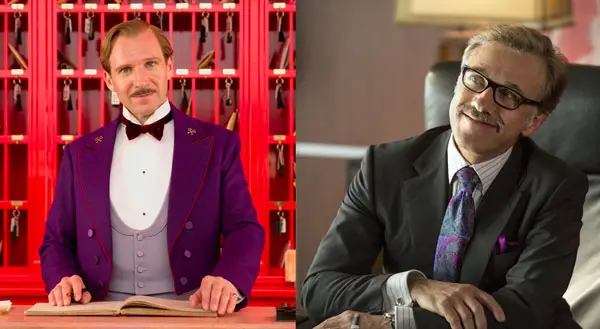 Both Ralph Fiennes and Christoph Waltz are award-winning actors who received plenty of acclaim in their own countries before finding even more success in Hollywood. Variety put the pair together for its Actors on Actors feature, and asked them about auditions.
Being that they are actors who have directed in the past, Fiennes (who directed 2011's Coriolanus and 2013's The Invisible Woman) and Waltz (who directed a 2000 German TV movie titled Wenn man sich traut) are able to talk about the audition process from both sides — as the person auditioning and the person making the decision.
It's comforting to know that no matter how many awards you receive, auditions can still make you uncomfortable, isn't it?
Waltz: I can't really deal with auditions very well. I don't know how you feel.

Fiennes: I hate them.

Waltz: An audition is an art form in itself. And you know, there are auditioners. They're not necessarily actors. That actually goes along with my question about teaching, because in a way, there's an analogy. I couldn't teach, because I'd be afraid to overlook a talent. I don't want to be responsible that a gem is being swept under the carpet just because my sensorium is insufficient — because the real gems are hidden, like diamonds. Now I've never asked anyone to audition for me, but you have.

Fiennes: Have you directed anything?

Waltz: I have.

Fiennes: So you auditioned people for that?

Waltz: Yeah, well, I interviewed them. I didn't audition them, because I felt embarrassed.

Fiennes: You just talked to them.

Waltz: I knew them, and I'd seen what they did. Some of them I'd worked with as an actor, and so I wouldn't do that again. I wouldn't just think I know. I would actually want to try (them) out. But tell me, I mean, do you feel a sense of responsibility, or just …

Fiennes: I think there are levels. People come into a room with their nervous anxiety. They come in with an energy. Sometimes they're seemingly quite relaxed. We're in this slightly contrived situation, and I've got a sense of what this part should be, and I've got to be focused on that. But what is the spirit of this person in front of me, and where can we find something where something else emerges? I don't have any technique, except I need to do it, if it's a piece of text. I find myself wanting to (repeat the audition) at least three or four times, not just, "Can I hear you? Thank you very much." I couldn't do that. I need to have a connection. And often if someone does a great reading, (they may not be) quite right, but what you feel is that there's a human connection.

Waltz: So you feel a sense of responsibility. (In my Inglourious Basterds audition), I did the whole part with Quentin. He read all the other parts and I read that one part. We did it twice, on two different days. I was very impressed by that, because he trusted his first impression and his instinct as he always does, but he also backs it up.