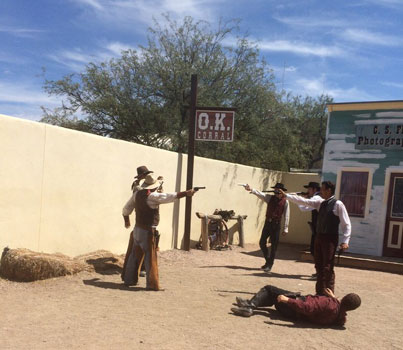 Battle re-enactments are fairly common nowadays, and when they're done properly they can be great fun to watch as well as take part in. That wasn't the case recently for one actor though, who found himself actually shot for real.
Tombstone, in Arizona, is known for its historical re-enactments of Wild West Gunfights. During its annual "Helldorado Days" celebration, Tom Carter, an actor, was late to the performance and because of this, according to News 4 Tuscon, the event organizers failed to check his weapon. During the shootout, he then went on to hit another actor, Ken Curtis, with a real bullet.
Curtis was airlifted to hospital to have the bullet removed and is reported to be in a fair condition, while Carter was immediately relieved of his weapon. Both men are members of the Tombstone Vigilantes performance group. Another actor, Debbie Mitchell, was grazed by a bullet but she declined hospital treatment. Other bullets allegedly hit nearby buildings and local businesses.
"The Vigilantes immediately stopped the show and Tom was relieved of his weapon," Bob Randall, the city's marshall, said in a statement. "During inspection of his weapon, it was discovered that there was one live round in the cylinder with five expended casings, indicating the gun had held six live rounds prior to the skit."
The Vigilantes are now barred from performing re-enactments "until it can be determined all weapons are safely loaded with blank ammunition as required."
Via HuffPost Crime