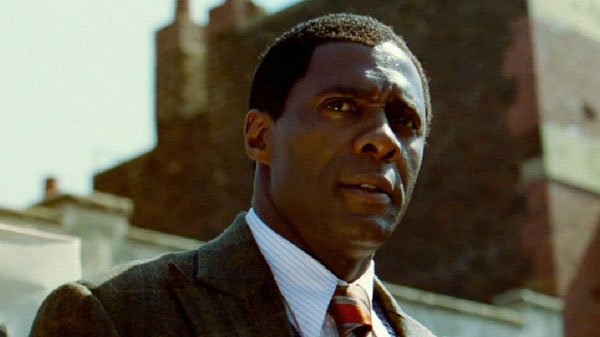 Last Oscar season, Idris Elba was almost a shoo-in for the Best Actor race for playing Nelson Mandela in a Mandela: Long Walk to Freedom. Unfortunately, the British actor was snubbed, but the role resonated with his long after the cameras finished shooting.
Elba dug deep to portray Mandela and spent time in the same cell the anti-apartheid activist lived in for 27 years.
He explained, "It was about perspective. He was there for so long, that one room, sleeping there for so long – I had to do one night. And when I think about how my performance came together, it was a lot to do with how I reacted to that one night. Being in that s—hole [where he was] fighting for his liberty. It really just laid the foundation for my performance."
The Luther star felt he almost wasn't worthy of playing such a legend on-screen.
"I'm no freedom fighter. I'm Idris, a lad from east London, that just happens to be doing acting and doing well. I didn't feel qualified to play him at all," said the Brit.
He didn't let Mandela go for quite awhile though.
"Yeah. I mean, I didn't quite shake it off. It was really weird. I'd just done eight months in South Africa. I came to England and the day I came back I had to do reshoots on Thor 2. And in the actual scene my hair was different, my…[He sighed.] I was like, 'This is torture, man. I don't want to do this.' My agent said: 'You have to, it's part of the deal.'"
He continued, "I'm actually falling down from a spaceship, so they had to put me in harness in this green-screen studio. And in between takes I was stuck there, fake hair stuck on to my head with glue, this f—— helmet, while they reset. And I'm thinking: '24 hours ago, I was Mandela'. When I walked into the set the extras called me Madiba. I was literally walking in this man's boots. [Within] six months, the crew, we were all so in love with this film we had made. I was him. I was Mandela, practically. Then there I was, in this stupid harness, with this wig and this sword and these contact lenses. It ripped my heart out."
It's clear the role affected Elba deeply and he knows the film brought him tremendous opportunity.
"I'm a very popular actor," he said confidently. "I'm not famous, I'm popular. And that popularity is at a feverish pitch at the moment. And I'm definitely aware of it, and I'm taking advantage of the opportunities."
Via The Telegraph