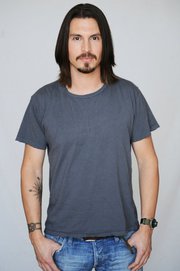 What would a card-carrying member of the Screen Actor's Guild get out of leaking movie screeners to the Internet? 
Wes DeSoto might be the most unpopular man in Hollywood right now as a leaked screener of Black Swan during its theatrical release has been traced back to him. 
It's also suspected that DeSoto leaked four other films too, including The King's Speech and The Fighter.  DeSoto, whose only major on-screen appearance was a bit part in an episode of CSI in 2010 — received the screeners through a section of the iTunes store that is offered only to SAG members. 
DeSoto will plead guilty to copyright-infringement charges when he is taken to trial next month.  That normally carries a three year prison sentence, but the prosecutors are instead seeking three years probation and "restitution," whatever that means in this case.  I mean, I don't see how restitution could properly be calculated in a case like this… but I'm sure some lawyer has his or her calculator out.   I can't help but focus on the incredible stupidity of this whole matter.  Why did DeSoto leak the screeners when it can be so easily traced back to him?  He could have potentially had a shot at a career as an actor but completely blew it here.  Then again, why is someone like DeSoto — who was not involved in the production of any of the five films he leaked — able to access such content anyway?  I know SAG members have to vote on films for the organization's awards, but it seems like it was only a matter of time before this happened.
If nothing else, I'd imagine DeSoto will serve as an example to other would-be leakers. 
Via Wired