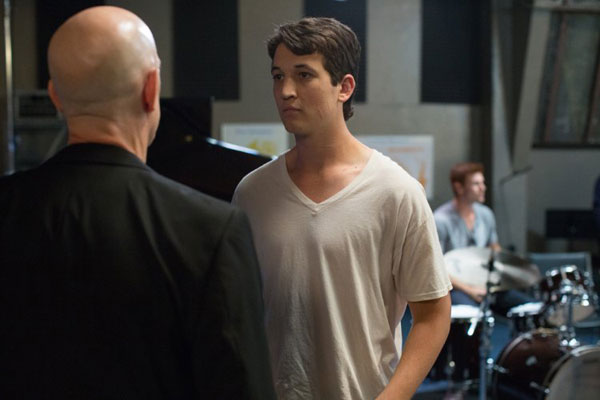 Miles Teller is one of hottest young male actors in film today. With the Fantastic Four reboot already in the can, Teller is currently doing press for his latest drama, Whiplash. The film centers around the young actor playing a jazz drummer who is dealing with a manipulative teacher played by J.K. Simmons.
Teller talked about how challenging the role was for him while giving high praise to director Damien Chazelle.
He said, "I've had directors who think they need to do tricks and manipulate you. I don't work that way. I'm not a dog — you don't need to show me something shiny to get me to look up on that line. My favorite directors are people like Damien who are very collaborative and respect what you do but will give you a different way of thinking about the scene, as opposed to just telling you to squint on a line or move your eyebrows during this word. That kind of micromanaging can get frustrating for me because as an actor, you want to suspend your disbelief. You want to feel like you're in that moment; you don't want to remind yourself that it's fake. And it's very easy to realize that a movie set is fake when you've got a camera right here, a light right here, a microphone right here, and you're talking to a red X. It's easier when the camera finds you, and that's what Damien did a lot on this film. When I saw the film, I found out so much of it is in close-ups. I told Damien, 'Shit, man, I don't remember acting for a close-up in this whole movie!'"
This wasn't a role that The Spectacular Now star took home with him though. He explained why, "With this particular role, I knew I was going to focus so much on the performance that I didn't want to have any distractions. I isolated myself more for this one than I ever had before, so by the time it was over, I was freakin' happy to get rid of that."
With Whiplash, Teller was able to really dig in and show off his acting skills. He's proving that he is ready for more.
"I think at first, as a young male actor, you want to show people you can be charming and funny. You want to do the stuff that you know you can do well before you start getting into more character stuff, and now Whiplash has given me the opportunity to show something different. The stakes in this movie are high, and those are the kinds of films I want to do," he said. "Even when I was acting in college, I didn't want to do scenes that were just two people talking at a coffee table. I wanted to do the scene where they're fucking throwing things against the walls! If you're going to do one scene from a play, pick the one where the shit's hitting the fan."
Whiplash opened on Oct. 10.
Via Vulture