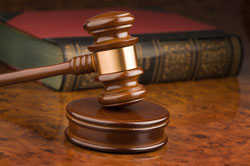 Don't get down just because you didn't book that audition — if you're in anywhere in the southeastern United States, the Florida legal system might be able to put you to work, albeit in an unusual capacity. According to a recent Reuters story, in recent years, Florida lawyers have begun to employ actors to read accounts from absent witnesses in court.
"I'm all for using tools that will help the jury understand the evidence. When you go to trial on a difficult case, you need every tool you can get to win," said attorney Mark Brumer, adding that he was stunned after getting a hired hand to read a client's deposition for the first time. "It was like the witness was there."
After his initial success hiring actors to give depositions, Brumer started Actors at Law with casting agent Ellen Jacoby. "A lawyer doesn't want to pay $25,000 to bring in an expert witness," Jacoby explained. "This makes the justice system a little bit more affordable." Actors at Law suggests prices closer to $200 an hour.
"If you bring in a professional actor — to read a deposition – you could tint the situation," former trial attorney Jan Jacobowitz pointed out. "But in other situations maybe you engage the jury and get them to pay better attention."