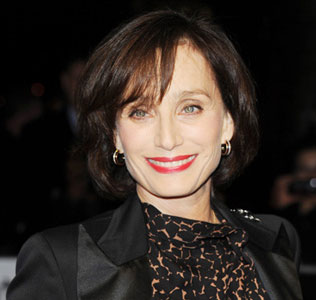 Award winning actress Kristin Scott Thomas has become internationally renowned for her talent, elegance and commitment to her craft. Never shying away from challenging roles and determined not to repeat herself, Scott Thomas' body of work is an extraordinary collection of acclaimed film, television and theatre performances.
Scott Thomas was recently seen in Gilles Paque Brenner's Sarah's Key. Based on the international bestseller by Tatiana de Rosnay, the film weaves two different stories, one set in World War II Paris and the other in the present. Scott Thomas received a Cesar Award nomination for her performance in the film. She was also recently seen in Alain Corneau's Crime d'amour which had an IFC release in 2011.
Upcoming, she will appear in Declan Donnellan and Nick Ormerod's Bel Ami opposite an all-star cast including Robert Pattinson, Uma Thurman and Christina Ricci; and Pawel Pawlikowski's La Femme du 5eme (aka The Woman In the Fifth) opposite Ethan Hawke; Lola Doillon Sous ton Emprise and Alain Corneau Une Femme Parfaite.
In 2010, Scott Thomas co-starred in Sam Taylor Wood's directorial debut, Nowhere Boy. The film follows John Lennon's teenage years and his first steps to stardom and Scott Thomas plays Lennon's aunt Mimi opposite Aaron Johnson and Anne Marie Duff. For her performance, she received a Best Supporting Actress BAFTA nomination and a British Film Independent Award nomination. In 2009, Scott Thomas was seen in Catherine Corsini's Partir, about a woman prepared to abandon everything in the pursuit of passion.  For her performance, Scott Thomas received a Best Actress Cesar Award nomination.
In 2008, Scott Thomas starred in Phillipe Claudel's critically acclaimed French language film, I've Loved You So Long for which she received a Golden Globe®, Cesar and BAFTA nomination, as well as won the European Best Actress award and the London Film Critics award for British Actress of the Year.
On stage, Scott Thomas made her Broadway debut in The Seagull, a performance for which she received outstanding reviews. Variety called her "transfixing" and The New York Times "excellent". For the play's run at London's Royal Court Theatre, she won the Olivier Award for "Best Actress."
In 2001, Scott Thomas was part of the ensemble for Robert Altman's acclaimed, Academy Award®-winning film, Gosford Park. The cast, which also included Maggie Smith, Helen Mirren, Michael Gambon, Ryan Phillippe, Derek Jacobi, Alan Bates, Emily Watson and Bob Balaban, went on to garner numerous awards and nomination including the SAG award for Outstanding Performance by the Cast of a Theatrical Motion Picture and the Broadcast Film Critics Award for Best Ensemble.
Scott Thomas first won over audiences and critics worldwide with her Academy Award® nominated performance in the late Anthony Minghella's The English Patient, where she starred opposite Ralph Fiennes and Juliette Binoche. Of her performance, Kenneth Turan wrote, Scott Thomas "gives a gorgeous and magnetic performance that adds unanticipated new dimensions to an already formidable talent." For her performance she was honored by the National Board of Review, and was nominated for Golden Globe®, the BAFTA, and the Screen Actors Guild Award.
Making her US film debut in Prince's Under a Cherry Moon, Scott Thomas went on to great acclaim in Mike Newell's Four Weddings and a Funeral, where she won a BAFTA award for Best Supporting Actress. Other notable credits include: Philip Haas' Angels and Insects; Richard Loncraine's Richard III; Brian DePalma's Mission Impossible; Robert Redford's The Horse Whisperer; Sydney Pollack's Random Hearts; Irwin Winkler's Life as a House; Roman Polanski's Bitter Moon; Paul Schrader's The Walker and Justin Chadwick's The Other Boleyn Girl, Easy Virtue, and Confessions of a Shopholic.
Biography/Filmography courtesy of CBS Films and the film, Salmon Fishing in the Yemen