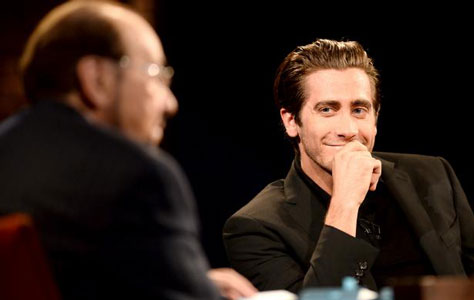 Jake Gyllenhaal will appear on Inside the Actors Studio this Thursday, September 19th. 
Gyllenhaal has won a BAFTA award and been nominated for an Academy Award, a Screen Actors Guild award and a Golden Globe award. Gyllenhaal has starred in such varied films as "Brokeback Mountain," "October Sky," "Donnie Darko," "End of Watch" and his upcoming movie "Prisoners."
In the episode, Gyllenhaal opens up about being raised in a Hollywood family and working with starlets like Anne Hathaway. James Lipton leaves no stone unturned as he asks Gyllenhaal everything from the personal details of his Bar Mitzvah, to his improvisational talents, to his relationship with "Brokeback Mountain" co-star Heath Ledger.
Here are a couple of quote from the upcoming episode:
"It felt like losing a family member, and it still does to this day." – Gyllenhaal on Heath Ledger's death
"It's a huge compliment…" – Gyllenhaal on his sexual orientation being questioned after "Brokeback Mountain"
 "She's so sharp and smart and…courageous. I admire her courage, behind the camera and in front of the camera." – Gyllenhaal on working with Anne Hathaway
"The way you behave with everybody is more important than the work that you do. It's essential. It is everything… generosity and kindness and patience will get you so far. That's the biggest lesson I've learned." – Gyllenhaal's biggest piece of advice
 "…My sister is, probably the reason why I do this, is somebody who I admire more than most anybody in the world, and she drives me f**king nuts sometimes… " – Gyllenhaal on sister Maggie Gyllenhaal