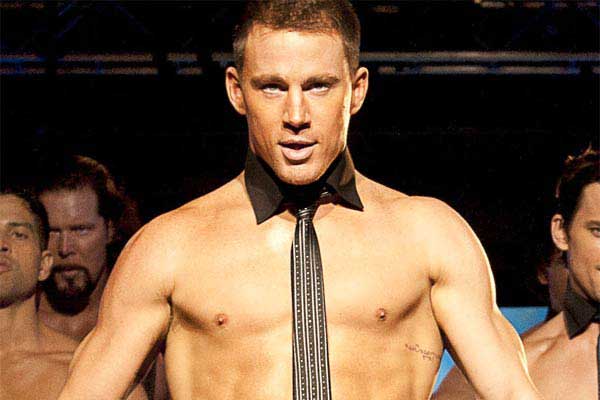 "I do get nervous to act, it kind of depends on what it is really." – Channing Tatum
With Magic Mike XXL set to hit theaters next month, Channing Tatum has been working the interview circuit in promotion of the sexy franchise that grossed roughly $160 million with its first installment. In an AMA chat, Tatum answered fans' questions and wasn't afraid to get candid. Tatum started off the Reddit chat with a laugh by talking about a recent expedition.
"I just went to Iceland and tried to do a small expedition across the glacier and we didn't make it. We had to be emergency evacuated as there was a white out blizzard which I got to take a poop in. It actually freezes before it hits the ground."
And if that didn't get a laugh from fans, Tatum's admission that he gets lost in his Magic Mike co-star Matt Bomer's eyes was also comical. "Absofuckinglutely. No matter if you're a man, woman, cat, hamster, you will get lost in Matt Bomer's eyes. I don't know what they are made of outside of dreams and rainbows and amazingness but it truly doesn't matter. And when he sings. It's like god gave with both hands and then grew a third hand and graced him with more. he's crazy talented."
Tatum also poked fun at himself about his previous role in Step Up after a fan mentioned their need to re-watch the 2006 film that gained Tatum recognition. "Hahahahaha! I guess you need to see it as many times as it takes you to realize how bad my acting is in it. And fast forward to the dancing parts after that." Tatum was also honest about his role in Jupiter Ascending "What was that," a fan asked. Tatum simply responded, "great question. I have the same one to myself."
On a more serious note, the 35-year-old admitted to getting nervous at times. "I do get nervous to act, it kind of depends on what it is really. Doing SNL was by far the most terrifying thing that I've ever done, because there is a lot of reading involved, and I don't read that well out loud. I get terrified and freeze up. So it really depends on what kind. If i'm really super prepared and I'm off book, I'm not nervous. There's no wrong way to do it, just different ways to do it, because you never know what is going to work."
When asked to share something many people do not know about him, Tatum openly shared how lucky and grateful he is. "I think a lot of people of people say how lucky they are. and i don't think people really understand how lucky i am to even be in a conversation like this right now. It's nuts. I mean, I somehow made a lot of right decisions, I'm sure i made a lot of wrong decisions, but I don't even know the constellation of events that led to me getting there. just how crazy it is. Looking around and seeing how many ridiculously talented people I'm around everyday."
Magic Mike XXL will hit theaters on July 1.