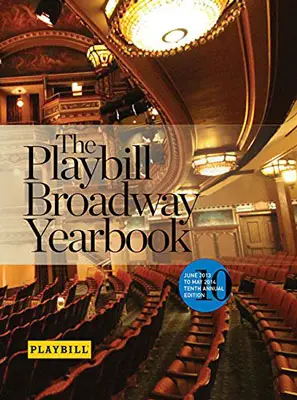 Christmas Gift Alert! The tenth annual edition of The Playbill Broadway Yearbook is out and, as usual, it's chock full of all things that are wonderful.
Spanning the Broadway season that went from June 2013 through May 2014, the Yearbook features every single show that ran on Broadway. Not just the new seasons hits (If/Then, Beautiful, Hedwig and the Angry Inch) and flops (sorry The Bridges of Madison County, Rocky and Bullets Over Broadway) but also the perennial mainstays (Wicked, The Book of Mormon, Kinky Boots, Once).
As in every edition, they feature tons (I mean tons) of pictures from each show; actors headshots and Playbill bio, behind-the-scenes staff and crew (including all of the casting directors that worked on each show) and backstage photos. The backstage photos are always my favorite.
Another cool thing is the 'scrapbook' section. Playbill and Editor Robert Viagas asked a member of the cast or crew from each show to write-up and list of some behind-the-scenes tidbits, things that only the cast and crew would know and they are so great and fun. They include things like 'Favorite Show Catchphrases', 'Favorite Off-Site Hangout', 'Memorable Ad-libs', 'Favorite Health Tips', Pre-Show Rituals', 'Most Exciting Visitor, ' 'Memorable Directorial Note' and my personal favorite, 'Worst Audience Behavior.' I promise, you'll want to read them all.
For this year's edition, they've added a map of Times Square that shows you the location of all the theaters on Broadway. Also included on the map? A list of where the performers like to go and grab a drink after the show. Hello, Angus McIndoe's. I'll be visiting you soon.
This is a must have for any theater or Broadway lover!