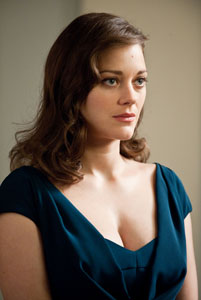 Marion Cotillard won a Best Actress Academy Award® for her performance in La Vie en Rose, making her the first actress to earn an Oscar® for a performance in the French language. For her captivating portrayal of legendary French chanteuse Edith Piaf in that film, Cotillard also won a BAFTA Award, a Golden Globe and a César Award, and received Screen Actors Guild (SAG) Award® and Critics' Choice Award nominations.
The Dark Knight Rises marks the second collaboration for Cotillard and Christopher Nolan. She previously worked under Nolan's direction in the 2010 hit thriller Inception, opposite Leonardo DiCaprio.
This fall, Cotillard will be seen in Guillaume Canet's comedy/drama Little White Lies; and the drama Rust & Bone, which screened at the 2012 Cannes Film Festival. Recently, Cotillard completed production on the as-yet-untitled drama, directed by James Gray and also starring Joaquin Phoenix and Jeremy Renner; as well as the crime drama Blood Ties, which reunited her with director Guillaume Canet.
Cotillard first gained attention for her work in the successful French Taxi film series, written by Luc Besson, for which she received a César Award nomination. She was introduced to American moviegoers with her role in Tim Burton's 2003 fantasy drama Big Fish, and also starred that year in Yann Samuell's Love Me If You Dare. Cotillard won her first César Award, for Best Supporting Actress, for her performance in Jean-Pierre Jeunet's A Very Long Engagement. She went on to star in a number of French films, as well as Ridley Scott's A Good Year.
In 2009, Cotillard starred in Michael Mann's Public Enemies and Rob Marshall's screen adaptation of the hit musical Nine. For her role in the latter, she received Golden Globe and Critics' Choice Award nominations, in addition to sharing in a SAG Award® nomination for Outstanding Motion Picture Cast. Her additional film credits include Steven Soderbergh's thriller Contagion, as well as Woody Allen's acclaimed romantic comedy Midnight in Paris, for which she shared in a SAG Award® nomination for Outstanding Motion Picture Cast with Owen Wilson, Kathy Bates, and Rachel McAdams.
In 2010, Cotillard was named a Knight of the Order of Arts and Letters, for her contribution to the enrichment of French culture. Born in Paris, she studied drama at Conservatoire d'Art Dramatique in Orléans.