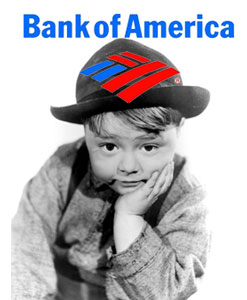 In the last several years Bank of America, one of the largest banks in the United States, has come under fire for a number of its business practices.  The latest complaint aimed at Bank of America involves child actors, with the banking giant facing a class action lawsuit for charging child actors' trust accounts with monthly service fees.
According to the lawsuit filed by the law firm Markun Zusman & Compton, Bank of America is illegally withdrawing money from child actors' so-called "Coogan Accounts," a special type of trust fund created by the California legislature with the Coogan Act.   The Coogan Act was named after Jackie Coogan (a child actor who starred alongside Charlie Chaplin as the titular scamp in The Kid), who sued his mother in 1938 after discovering that the millions of dollars he had earned as a child actor had been spent by his mother and stepfather on luxuries (even after the lawsuit, Coogan only ended up with a fraction of earnings).  The California Child Actor's Bill, known as "The Coogan Act", was passed the following year and ensures that 15% of a child actor's earnings are placed in a trust fund that can only be accessed when the child actor turns 18 or is legally emancipated from his or her parents. 
But Bank of America is accused of taking monthly service charges out of the accounts for perhaps as many as 15,000 child actors.  In fact, the bank is even accused of depleting many of the accounts with fees, leading to some child actors actually owing the bank money once they can legally access the accounts.
Bank of America has yet to respond to the lawsuit.
via ABC News