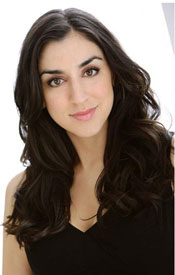 An actress who starred in a commercial about filing a lawsuit has now filed a lawsuit against the ad agency who shot it.
New York City actress Elena Araoz filmed a humorous 2009 commercial for the law firm Trolman, Glaser & Lichtman in which her character complains about the extreme pain caused by a paper cut.  It became a local hit based on its bashing of frivolous lawsuits.  Elena received $600 for the 30-second commercial, which according to the contract she signed with the ad firm Levinson Tractenberg Group would only air in local markets for up to a year.
However, those of you that live out of the New York City area might be familiar with commercial and Araoz.  Why?  Because over the past four years Levinson has licensed the commercial to six different law firms across the country and made $250,000 for the rights.  Araoz didn't even learn that this was happening until last year when friends that she has in New Mexico told her that they had seen her face on a highway billboard!  When she confronted the firm in 2012 about using her image she received a one-time $1,500 payment — but that was before she discovered exactly how much the firm has made off her image.
As a result, Araoz is suing the advertising firm for one million dollars in unpaid compensation.  She also claims that she has since been typecast because of the ad's popularity.  She is also suing the individual law firms for using her image without her consent.
As usual, the suit will likely come down to the specific language in the contract regarding licensing rights for the commercial.  As other actors have discovered, actors have to be careful about relinquishing control of their image because they'll never know where their face might pop up.