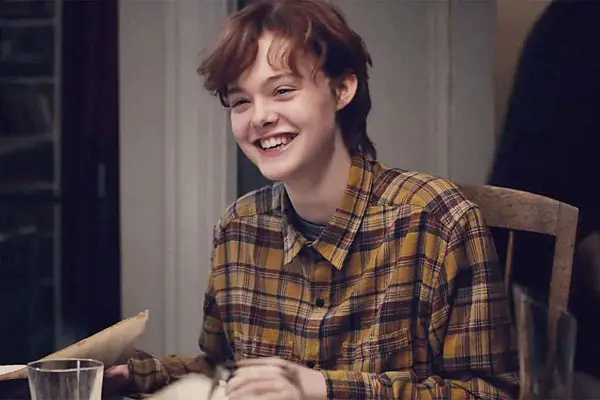 In recent years, the film and television industry has made small yet significant steps toward becoming more inclusive. Slowly, we are seeing a change in attitude towards the LGBTQ community and Hollywood is becoming more accepting and understanding towards the issues they face. Sure, there's still a long way to go, but it's undeniable that shows like Glee, Orange is the New Black, The Fosters and Transparent have brought these issues into the mainstream and made great strides to include characters of varying gender identities and sexualities.
Being transgender is still something of a taboo subject. Despite actress Laverne Cox being in the limelight thanks to her role in OITNB and Caitlyn Jenner very publicly transitioning, it still remains a subject that many people simply do not understand or wish to talk about. Now, a new film is out to change people's opinions and give a glimpse into how an entire family is affected by one person's desire to transition.
About Ray stars Elle Fanning as a teenage girl who wishes to transition to become male. Going by the name of Ray, she finds support in the form of her mother (Naomi Watts) but her lesbian Grandmother (Susan Sarandon) needs more convincing. The movie essentially follows Ray and the family as they cope with coming to terms with everything transitioning entails.
The movie is set to be released on September 18th, and though it looks promising, director Gabby Dellal has come under fire from various corners of the media and the trans community for not casting a trans male in the part. But, she says, that was never her intention, and for good reason.
"I could not have chosen a more blonde, more feminine actress who had a big a mountain to climb," Dellal says. "And that's what I'm interested in."
Though most would use male pronouns when discussing the character of Ray, Dellal notably uses female pronouns, insisting that the part could not have gone to a trans actor because it focuses on Ray before he transitions.
"The part is a girl and she is a girl who is presenting in a very ineffectual way as a boy," she says, defending her choice to cast Fanning. "She's not pretending to have a deeper voice. She's just a girl who is being herself and is chasing the opportunity to start hormone treatment. So to actually use a trans boy was not an option because this isn't what my story is about."
However, Dellal also admits that the casting choice was also down to money; in order to get the movie bankrolled she needed to cast notable actresses for each part.
"I would never discriminate against a trans kid or actor coming up to audition, but in this day and age in cinema, where it's almost impossible to raise the financing, unfortunately we have to have some people that mean a certain amount of money."
About Ray will be released on September 18, 2015
Via Refinery 29