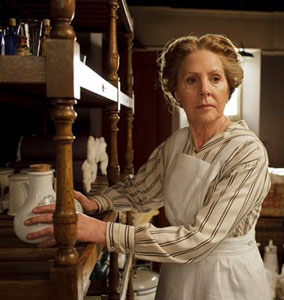 One of the most lauded shows currently on TV is Downton Abbey. The hit show has resonated with both viewers and critics alike, but for actress Penelope Wilton, shooting the series feels "like being in repertory theatre."
The 67-year-old actress continued, "It is like being in a company and all the better for it probably because you can talk in shorthand, as it were, and do more of the acting."
That theatre-like camaraderie feels just like home for the acting veteran. In fact, she touched upon the fact that the cast gets along quite well behind the scenes.
"We do very short scenes so we come in and out; we don't get bored with one another. It is the closest thing in television to being an ensemble in theatre," said Wilton.
While she's enjoying her success in television, she knows she can always go home to the theatre.
Wilton revealed, "It's the one I have done most of. It is the one that is the most difficult and in the end the most satisfying – it demands so much of you."
"The most difficult thing in theatre is repetition because you do it multiple times. Normally television works in short bursts that are intense and once you've shot it you've shot it. That's why actors love theatre, because it demands so much of you. You become quite close to the piece and your colleagues, you work with them over such a long time and you get as near to what the playwright has written as you possibly can."
Playing her role as Isobel Crawley in the PBS drama is a dream come true and Wilton thinks highly of occasionally prissy character.
Wilton shared, "She bites off more than she can chew sometimes, makes statements she can't fulfill. But she's also quite brave, independent and forward-thinking. In fact, she's like a real person, with all their faults."
Season 4 of Downton Abbey premieres on Jan. 5.
Via RadioTimes