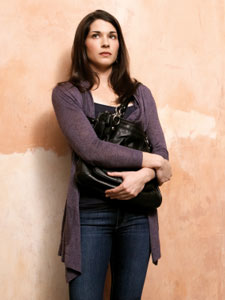 Comic-Con 2012: When Dorian Brown began filming season one of FX's Wilfred, she was pregnant and in her words, "uncomfortable." In season two, her character, Kristen, is now the pregnant one and as she told a group of us at Comic-Con, it "actually took me a lot longer to just get in Kristen because I feel good."
Dorian talked to us about working with fake babies and if the show got any easier, acting wise, in season two.
Wilfred airs at 10pm on Thursdays on FX
For the full interview, check out the video below!
How does India change Kristen?
Dorian Brown:  India has changed Kristen enormously.  She comes back a completely different person.  She thinks she's more – she thinks she's changed for the better but realistically she left Ryan in Season One and his life was embarrassing to her and Kristen's life was very put together.  She gets back from India and it's been the complete opposite.  So that dynamic – she's very competitive and he has this perfect life, and my life is falling apart from India.
How has it been being an actual mother and playing someone who will be a mother as well?  Is any of that personal experience rolled into your role?
Dorian Brown:  You know it's funny, because in Season One, playing Kristen's short temper and her just miserableness was easy because I was pregnant and uncomfortable.  And in the second season, it was easier.  This season I'm not pregnant but playing pregnant, so it actually took me a lot longer to just get in Kristen because I feel good. 
The whole thing with being a mom, I used my imagination at the first, so it's all the same.  Your imagination is as strong as what's really happening sometimes, so that was easy. 
I don't have too much interaction with the baby.  We were supposed to have a lot of interaction with the baby, but working with babies we found out, as everybody else knows in the industry, is not very easy.  So I think we only have one scene with the actual babies and that was it.  They're all fake babies.  And the fake babies are super creepy.  Really creepy.  Especially, there is one episode where I actually give birth.  Creepy!  But you will see it.  You won't see it, but you'll see the baby.
Acting wise, does it get easier in Season Two?
Dorian Brown:  It's so funny that you asked that because it did not get easier Season Two.  It also helped that the stuff that they were giving is more layered with more stuff, so there's just more to the lives of these characters.  So, it was actually more challenging.  I don't really know how to put it into words because I was surprised myself.  I thought it would be easy.  I'd already kind of lived Kristen.  But there are like eight months that goes by between seasons that we're working and then to come in and have a completely drastic change with Kristen's life from the finale in Season One to this episode tonight, her return from India is totally different.  So, it was hard.  There is a lot of pretending.  There is a lot of covering up that Kristen is doing, so I'm like pretending on top of covering up, on top of covering up.  You'll see.  It's hard to describe, but it was challenging.