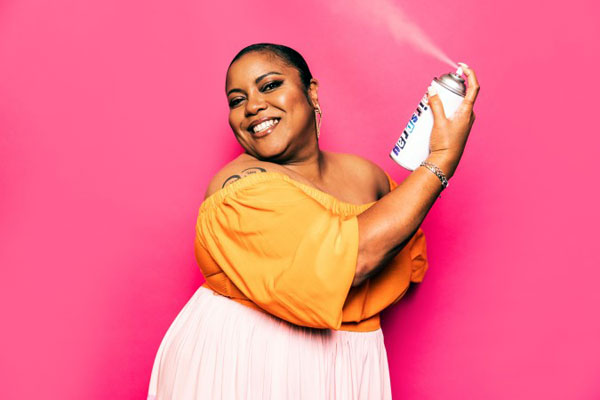 Toneisha Harris, the runner-up on Season 18 of The Voice, has got a voice that'll knock your socks off. It can easily fill a huge theater (in this case, the San Diego Civic Theatre) and she makes it look completely effortless. Harris stars as Motormouth Maybelle in the National tour of Hairspray, the adaptation to John Water's classic film of the same name, and every time she sang, she brought down the house. Even if you've seen the show before, this production is well worth it just to see her alone.
Right before the tour started, she sat down and talked about the show, how she got the part, pre-show rituals and how The Voice changed her life and career!
These are edited excerpts from that conversation. For the full interview, check out the video below or on YouTube.
How's everything going so far with rehearsals?
Toneisha Harris: Everything has been amazing. We arrived in Washington yesterday. It's just been great watching us kind of grow as cast and as a family. It's been great preparing to tell this story and seeing how far we've come in such a short time. So it's been, it's been going wonderful.
Believe it or not, we had a little less than three weeks. So, to see the growth of the cast embodying the characters and to be able to accomplish so much in such a short time has really, really been encouraging. It's been amazing to watch.
How long is the tour?
Toneisha Harris: The tour is going to be about eight or nine months. I believe we wrap at the end of June. Several cities… 60 cities in a short period of time.
Are you prepared for all that?
Toneisha Harris: Absolutely, I am ready for it. You know, I'm living out my dream. I've wanted to do this for a very, very long time. I stepped away from theater several years ago, so I wasn't sure that I'd have the opportunity to come back to this. And so, to get this literally was a surprise and a lifelong dream. So I'm definitely ready.
I've been staying hydrated, making sure I take care of my body and take care of my mental state as well, because it's a lot, you know? Long days, long hours, meeting people and it's a lot that we have to endure but knowing that we get to do that together really, really helps.
Being from Maryland, I'm guessing you've seen the original movie.
Toneisha Harris:  Oh yes, absolutely. That is when I first fell in love with it. Seeing that movie and seeing the musical adaptation of it, it turned it into something else. That story turned into something else when all that music was added and it enlightened the story, it heightened it as well. So I absolutely fell in love with it.
I remember looking at Queen Latifa thinking, 'Oh my God, I would absolutely love to play this character.' And look how many years ago that was and I would have never thought that I get this amazing opportunity to be able to actually do that.
How did you actually get the part?
Toneisha Harris: During my time on The Voice, I had no idea that I was being watched by the amazing powers that be for this show. And as soon we ended in May, I literally got an email. Maybe the week after the show ended. I thought that it was a hoax. I didn't respond, I didn't respond right away. And I said, 'There's no way at all that they could absolutely want me to be a part of this. Is this real?'
And so after a couple of days, I responded back and just kind of wanted to make sure this was true. 'You really do want me? Is this really happening?' And they said, 'absolutely. We really would love to see if you're interested.' And that was May of 2020.
And so look how long we've had to sit on that and keep it under wraps. Partly in due to the pandemic, of course, it threw us back twice before we actually got canceled and put on hold. So, we were hoping that this would have happened last year. And as you know, much of the world shut down, all the world shut down and we were anxiously waiting to see if we have this opportunity.
So, when we finally came back around to it this year and we officially made the announcement, I said, 'I can pinch myself. Now, this is really happening.'
I can't imagine. You booked this amazing part and have this amazing opportunity, you're all ready to go and it gets cancelled. Were you just like itching to start that whole time?
Toneisha Harris:  Oh, absolutely. I wasn't sure that we'd get this opportunity, to be honest with you. Like I said, we were canceled twice or should I say delayed twice? We were supposed to start maybe the end of summer last year, and then we got delayed to the fall. And then they said, 'at this point we just don't know.' So part of me was wondering, will this ever actually happened? Is it possible that I get my dream handed to me and then it's snatched back from me. And then to finally get the okay, the all clear that we are actually going in. Some theaters were opening on Broadway, one was returning. It was like, 'Oh my goodness, this is actually going to happen.' I actually had butterflies in my stomach. I wasn't sure how to react.
And we did our first press day. I remember I felt like a kid in a candy store. I walked in and I'm seeing wardrobe and makeup and lights and all of this stuff. And I was like, 'this is really happening.' I felt like being on the set with The Voice again.
I was really, really excited about meeting my coworkers, my co-laborers Nikki Metcalf and Andrew [Levitt]. So it was just wonderful to be able to share that moment with them. And we were all excited for it.
You've done theater in the past. Why did you take a break from that? Did you do that to focus more on your singing career?
Toneisha Harris: I did. I did some theater in past, in Maryland. I did several community plays. I also did some theater for a stint in Philadelphia, and our cast was nominated for Barrymore Awards there, several Barrymore Awards, which is Philadelphia's version of the Tony's. It was an amazing, amazing experience.
And I took some time away thinking maybe I'll just focus on music now and let's see what I do and what I could put out. And then everything changed. After that I had focused and thought, 'okay, this is the direction I want to go in.'
And then my family and I moved to Georgia and then my son took sick, and everything ended up kind of coming to a halt. I didn't think that I'd really be able to really recapture any of these moments in life, to be honest with you, and to be able to sit here with you now, to be able to recount how I was thinking those years ago and to see all this evolution happen and where I am now in life. You couldn't have convinced me that this would be the case for sure.
Do you have any pre-show rituals?
Toneisha Harris: Well, a couple. I start the day first and foremost, with 32 ounces of water before I do anything else. First thing in the morning, right off the bat. Because it's important, it's imperative to stay hydrated and to be able to do what we do and what it calls for and how rigorous it can be. We have to say hydrated. I say that to the cast all the time. They're like, 'Oh my God, I can't do that.' Yeah, you can if you need to, you can. So yeah, staying hydrated first and foremost.
And then also we do have this thing that we kind of have established amongst each other, where we kind of go to each other and just say, 'I've got your back.' And it really has made our bond even stronger. So that is something else that we kind of do before our rehearsals and before each tech run, we would just kind of go up to each other and just whisper, 'I've got you back.'
And we've tried to make sure that we say that to everyone in the room as much as possible before we get started. You know, those pre-show nerves before you go out. I'm sure know how it is when you get them. We've all experienced it. So those moments, and you have someone coming whisper, I've got your back. It kind of gives you a little bit of peace before going out.
And of course, we all do our vocal warmups. We do some exercises because this show, it's immense. It is amazing. It's vibrant. It's a lot of movement, a lot of moving parts.
I want to ask you about The Voice. Besides this opportunity, how did the show change your life and your career?
Toneisha Harris: The Voice was definitely life changing for me. I would have never experienced some of the things that I have experienced on the show, as well as, since the show. I was able to do SNL with Nick Jonas in February of this year, which was absolutely amazing. He was not even my coach. So for him to reach out and say, 'I want you to come and be a part of this. I'm hosting and I'm performing.' He gave me that opportunity to do background vocals for him, but he also gave me a moment to sing a bit of a lead and to shine. And that blew my mind. I would never have thought that it could get better from there.
And then August of this year, I was able to go to Nashville and actually perform on stage with Foreigner. So that was amazing as well. I performed their songs for my audition for The Voice. 'I Want to Know What Love Is.' It got millions of views on YouTube. And so many people just commented on it and how they loved that arrangement. They loved that version. So I reached out and started having conversations with Warner when I saw that they were going on tour and they absolutely knew who I was and remembered who I was, which blew my mind in itself.
And when they offered for me to come to Nashville and to perform with them at the Ryman, I just could not believe it. I jumped at the opportunity, and they were so nice, so wonderful to me. These are legends that I grew up listening to. So that was wonderful. And here I am now embarking on this journey with the Hairspray tour.
For more info and tickets, check out Broadway San Diego or the official tour website.